5 Reasons Why Direct Mail Outperforms Digital Tactics
It's proven: people simply enjoy receiving and viewing physical advertising media over digitally delivered content. A recent study conducted by the Temple University Center for Neural Decision Making has proved the advantage print marketing has over its digital counterpart in the following ways.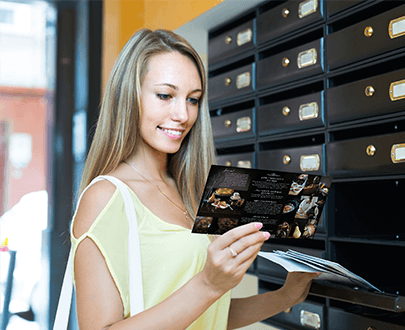 1. Engagement Time
People will spend more time looking at print than digital content.
2. Emotional Stimulation
People are more likely to have an emotional response to print.
3. Memory Speed and Confidence
People are able to both recall information faster and be more confident in their knowledge when they read print content.
4. Desirability
People simply prefer physical printed products over digital ones.
5. Value Judgement
Printed content is seen as having a higher value.
According to the Direct Marketing Association, direct mail response rates outperform all digital channels by nearly 700%. While email and social media are the more budget-friendly marketing channels, using digital marketing tactics alone could be preventing your chances for increased revenue and new customer acquisition. Unlike digital marketing, direct mail delivers your message right into the hands of your target audience — which guarantees your message to be seen, and in turn, improves your chance of higher response rates.
Download our free infographic poster to learn even more statistics on why you should use direct mail to drive response and sales for your business.
By Wendy Batara, Sr. Marketing Program Manager, Modern Postcard
Call a Direct Marketing Specialist at 800.959.8365.