6 Ways to Make Clients Fall for You
With Valentine's Day fast approaching, it's easy for our salesforce to think fondly of clients and how much they mean to our company. We understand great client retention requires a business strategy that goes beyond offering the lowest price or fastest service, because value holds more weight than price for many customers.
This means, there are other contributing factors that determine why customers decide to do business with one company over another. Learn our best advice for getting your customers to fall for you and keep coming back for more. Soon, you'll transform one-time sales interactions into repeat, lifetime business.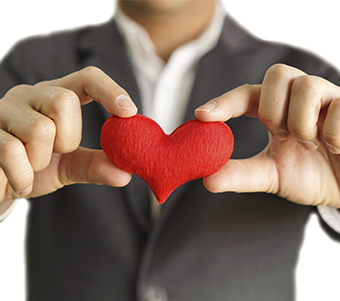 Be genuine
We've all dealt with businesses — whether in-person or over the phone — where the individual helping us only seems interested in going home, counting down the hours until their shift is over. People can sense when someone is being fake, which is why you must be genuinely interested in helping others if you want your customers to fall for you.
Be the expert
If all customers knew exactly what they wanted or needed, many of us would be out of a job. Fortunately, they come to us seeking answers. If you want to stand out from the competition, you need to know your stuff. Be prepared and prove you are an expert in your field, and customers will return to you when they have another need.
Ask questions
Don't assume customers know all the right questions to ask about the product or service you offer. When you ask your customers questions, it not only helps you determine a solution that fits their needs, it shows you listened and care about what's best for them. This also adds instant credibility to your solution, as it's based on information you gather directly from them.
Honesty
Sounds like a simple concept, but you'd be surprised. Trying to make a quick sale might work at some places, but for those of us hoping to create long-term relationships with our customers, honesty is key. Maybe the biggest ticket item on the floor isn't the best solution for them, even if you know you can sell it. Get to know your customers, learn what they need and make an honest recommendation.
Stay in touch
If your company thrives on repeat business, make staying in touch with your customers a high priority. If you've done all of the above, being top of mind is the last step to ensure you're first in line when their next need arises.
Show customers they are valued
Customer indifference is one of the biggest reasons people leave and go elsewhere. A simple 'hello' and 'thank you' is a good start. However, knowing your clients by name and remembering something about them, whether it's a previous purchase or what industry they're in, is even better.
Bonus Tip: A great way to stay in touch and show your customers they are appreciated, is to send them something through the mail. Much more personal than an email, a simple thank-you card goes a long way. Even better, send a "thank you for your business" gift card with no strings attached, for added value.
Throwing a great promotional offer at your customers helps, but it only keeps them loyal for that single purchase. You'll have to go above and beyond to show them the true value of doing business with you. Save the can't-resist deals for bringing new prospects in the door, and then wow them with your service and expertise to make them fall for you.
Call a Direct Marketing Specialist at 800.959.8365.