Are Your Customers Happy? 4 Tips to Launch Effective Surveys
Client satisfaction surveys are a necessary tool to keep a pulse on clients' impressions of your company. Without their input and ratings, you are basically flying blind — and operating by gut-feel is no way to run a business. Industry trends can be a useful guide, but what happens if your client base is slightly different than the industry standard? I've found that surveys can reveal details about processes or products many companies would otherwise miss. Even for the most self-aware businesses, gathering feedback can be the best way to quantify and prioritize improvement projects. Here are our top 4 tips for effectively surveying your audience: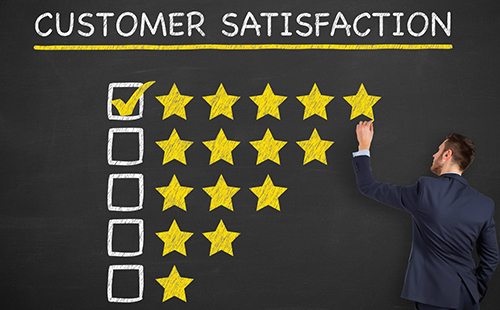 1. Provide the Right Incentive
According to Survey Monkey, "People typically respond to surveys for three main reasons: they want to be helpful, they enjoy the topic of the survey, or for a tangible benefit, which typically comes in the form of an incentive." Studies have shown that incentives tend to increase survey response rates, but be sure to choose your incentive wisely. A disproportionately high incentive may attract respondents who are not interested in providing you with real feedback, resulting in rushed responses with little to no thought. Since skewed data is more harmful than no data, this scenario can be damaging to the big-picture survey results.
Instead, try to choose an incentive with mass appeal that acts as a gesture of thanks for the respondent's time. When we run surveys at Modern Postcard, we typically offer a donation to charity on the client's behalf — which is a win-win option provided that the value of the donation is proportionate to the time it takes to complete our survey. On a more recent survey, we tested gift cards to an online retailer ranging from $10-$25 as the incentive. While our response rate was high in general (because our clients are the best), there was no notable difference in response rate from the higher to the lower gift card amount. Interestingly enough, we also discovered that our higher response rates were not affected when we offered a donation to charity as the incentive.
The last detail to keep in mind when choosing incentives is how you are going to manage them. Make sure you can deliver on what you promise. It's best to choose an incentive that can easily be emailed, automated or completed with little effort. When your survey closes, the focus should be on analyzing and acting upon results versus spending too much time administering complicated incentives.
2. Cater to Your Audience 
The good news about client surveys versus blind prospect surveys is, you are likely familiar with some details about your audience. This means you can slice and dice your list of recipients based on details such as ordering habits or demographics to cater the survey questions, tone and/or language to your recipients. First-time buyer surveys can identify offerings or services that may help retain clients; while surveys to eroded customers can shed light on reasons clients have stopped working with you. Detecting the best audience for your needs is critical to getting actionable and accurate feedback. Separating surveys for different client segments can allow you to speak to the respondent appropriately, and will show them that you know who they are.
If you are looking for ratings from your entire client base in one broad survey, you can segment your responses on the backend to understand ratings by client segment and gain some context. For example, long-term clients who order frequently are typically fans that give the highest ratings; while clients who only ordered once and haven't re-ordered may help uncover some areas for improvement.
3. Leave Nothing to Interpretation
This sounds a lot simpler than it is, but it's important that the questions you ask are phrased in such a way that respondents understand how they are supposed to reply. Here are some examples:
If you ask for a rating from 1-5, clearly label 1 as the lowest and 5 as the highest or vice versa
If you are requesting ratings for different items back to back, be sure that they are formatted consistently, with the lowest rating on the left and highest on the right or vice versa
Avoid using double negatives that are easy to misinterpret
Stay as concise as possible and use clear language rather than fluffy words
Clarity in your statements and questions will save your respondents time, allowing them to thoughtfully provide feedback rather than wonder what you're asking them.
4. Allow for Comments, then Follow Up
Most companies running surveys are looking for client insights on specific topics. Quantitative ratings are the quickest way to gather and analyze data. However, I've found that a mix of quantitative and qualitative paint the most well-rounded picture.
My biggest pet peeve when I take surveys is having feedback to provide and nowhere to provide it. When I respond to surveys from companies I've worked with, I like to be able to provide details about my personal experience in addition to the ratings they request. But unfortunately, I see this far too seldom. More often than not, I complete a survey answering what a company wants to know, and there is no freeform box where I can acknowledge a representative who may have gone above and beyond — or where I can inform them of a sub-par experience.
I am always conscious to avoid this mistake when I create a survey. While freeform boxes can present a bit of a nightmare in the analysis phase (since you can't simply export a report and present your findings), I've found that listening to what clients want to tell us can be even more effective than listening to their standard survey answers. In addition, I often find context to ratings in these freeform fields. For example, if someone selects a low rating, they will most likely provide detail in freeform boxes. And after all, what good is a rating if you don't understand where it came from?
Freeform fields and comment boxes certainly can add value to surveys, but keep in mind, they may require responses. This adds to the post-survey administration, but is worthwhile in the information you gather and impressions you make during the follow-up process.
By Modern Postcard
Call a Direct Marketing Specialist at 800.959.8365.