Build to Bleed (When Setting Up Files for Printing)
Each week, our reps field a question or two about files needing to be set up with a bleed included in the document size. So, here's the deal. Modern's printing process involves printing multiple orders on the same press sheet and trimming out individual cards after printing. So, the number of cards on a press sheet varies depending on the card sizes that are printing- we can print up to 32 standard cards on a single 26″x36″ press sheet.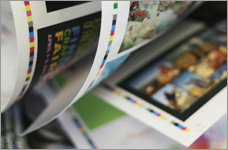 Because of this printing process, we require a 1/16″ bleed to be included into each layout. This gives us a decent amount space between each layout so that our bindery can properly trim cards. The goal is to ensure that color bleeds to the edge without trimming into any surrounding orders on the press sheet.
If Modern's in-house artists create a layout for you from scratch, we automatically add the bleed. When a client submits files that are built to the trim rather than the bleed size, our artists will do their best to adjust the file, but in some cases the order will be held until a new file, built to bleed, is provided.
When it comes to your next order, take a minute to check out our templates and make sure your files are built to bleed: modernpostcard.com/templates.
By Modern Postcard
Call a Direct Marketing Specialist at 800.959.8365.