Client Gifting: 7 Savvy Tips to Help You Choose Wisely
When we think of November and giving thanks, our minds often create a scenario filled with gloopy green bean casserole, loads of pumpkin pie and a table filled with crazy-yet-lovable relatives. However, before your imaginary turkey coma sets in, it's important to note that giving thanks is also a key ingredient for nurturing business relationships. It gives you an opportunity to show appreciation without focusing on closing a sale. How refreshing!
Thank-yous can come in many forms — from a simple greeting card with a personalized message to a more elaborate client gift. Selecting the right way to show your appreciation is important. The right gift will instantly market and elevate your business, while the wrong gift can leave your clients without much of an impression at all — or even worse, feeling unappreciated. Generating engagement and a positive response are important parts of retaining your existing customers, so heed our advice as you go through the daunting task of selecting the perfect client gift.
1. Select for Function
You may not be able to select individual gifts specific to a client — though when you can, you should — so it's important to make selections that offer usefulness to a wide range of potential clients. If you sell insurance, an umbrella might be a fun and functional selection. If you sell any tech products, a flash drive is always a helpful gift. Consider how useful the item will be before investing in client gifts.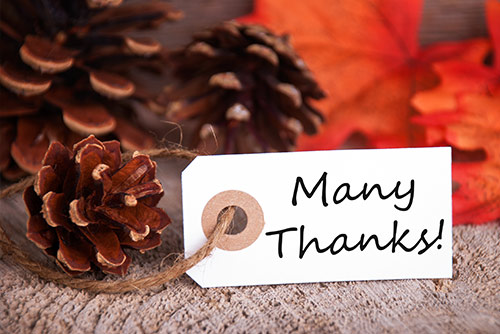 2. Make It Fun
Sure, corporate gift giving has a certain innate formality, but it doesn't need to be stuffy or traditional. Try to be unique and fun. If the gift itself is very traditional, think about an untraditional delivery method. A fun memory of the gift is likely to be a fun memory associated with your company.
3. Avoid Religious Messages and Humor
Corporate gift giving is very different from personal gift giving. Including religion or humor in your gifts can be offensive to some people. The last thing you want to do is give one contact a good laugh when others could easily be insulted. Keep it neutral; thoughtful gifting is not the time to be controversial or too edgy.
4. Don't Overbrand
Plastering your logo everywhere might be tempting, but it also can make your gift giving feel too cheesy and promotional. Don't get us wrong, marketing should happen throughout the year in various forms and logoed promotional items certainly have their place, but giving thanks is more about being gracious than shouting out your brand. So, when it comes to a corporate gift, make sure your logo or business name is on the outer packaging or the signature of any enclosed cards. Otherwise, take a less-is-more approach and allow your thoughtful gift to take care of the rest.
5. Look Into Gifting Policies
Your business may deal with hundreds to thousands of clients. Of those, there is probably at least one that has a policy against accepting gifts (like many in government or the banking industry, for example). Some may have an explicit "no gift" policy, while others may have strict price guidelines that limit the potential value of a gift. Do your research first to avoid an embarrassing moment when you try to present your gift.
6. Quality Over Quantity
A gift that breaks in a few days doesn't give a good impression of your company. It is often better to seek out a quality gift that will last. Take a look at your client list and choose your top tier for the most expensive items. After all, who actually uses promotional lunch totes? Instead, think about something high quality that solves a customer problem for your best clients. For the rest, personalized thank-you cards utilizing Variable Data Printing are a great way to show appreciation and speak to each client individually. Or, custom-printed thank-you cards with a hand-written note demonstrate your sincerity.
7. Don't Make It Personal
While you should try to tailor gifts to your clientele, you should avoid giving personal gifts. For example, if you know a professional contact enjoys a particular restaurant, a gift certificate might seem like a good idea. However, it is often better to give these personal gifts as a friend, not a company, as it could be perceived as too personal and create an awkward situation.
By Jessica Biondo, Marketing Communications Manager, Modern Postcard
Call a Direct Marketing Specialist at 800.959.8365.