Customer Spotlight: Amped Marketing
Based in Tucson, Arizona, Amped Marketing is a multi-disciplinary advertising and design studio. Simply by viewing their website and branding, you will see the team's futuristic level of design, creativity and wicked sense of humor. Learn how they recently used Modern Postcard booklets to promote their agency.
What areas does Amped Marketing specialize in? What kind of clients do you normally work with?
We specialize in unmatched web design, media buys for advertising and drones (non-warfare). Our clients range from corporations to small businesses.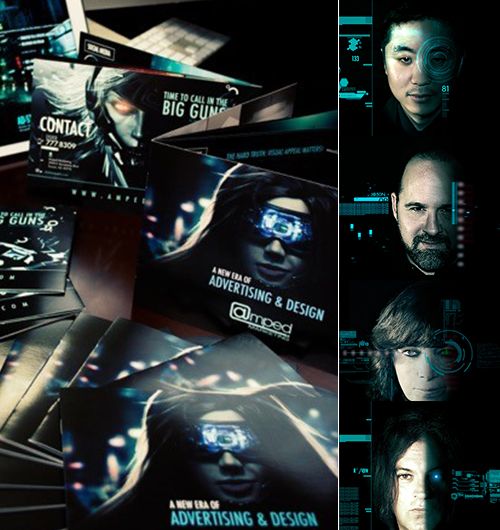 What type of print marketing do you use to promote Amped Marketing?
Amped Operatives use the Panoramic 5×7 booklet by Modern Postcard with new, prospective clients to give them an overload of visual stimulus on the services we provide. We pair this with a Retina HD iPad, to display both traditional and digital media.
Why do you choose to work with Modern Postcard over other print and direct mail vendors?
We choose Modern Postcard over other vendors for two reasons: 1) quality 2) customer service. To maintain our image, it is crucial that the promo piece that represents Amped is flawless in every way. Modern Postcard achieved this very thing. Plus, the individuals we are in contact with are friendly and knowledgeable.
Are you seeing any marketing industry trends in 2016 you'd like to discuss?
The current marketing and advertising trend is what is called, native advertising. Traditional banner ads have long since become obsolete. You're more likely to survive a plane crash than click one. Even though that sounds humorous, it is actually a fact. Native advertising blurs the line — interweaving promotions so subtly into the website's content that customers cannot tell the difference. It's delivered in-stream to sites such as: Facebook, Twitter and Instagram. You have seen these ads before…and may not realize it. You still have a few more years before the era of hologram advertising.
We see aerial drone videography listed as one of your services. Can you expand on this offering?
Yes, we offer aerial videography via drones that capture extremely high-resolution video footage and are armed with 8 long-range ASAT missiles and 2 MeV Neutral Particle Beam weapons. But, we disable these functions prior to filming for a client.
The advantages are obvious over traditional means. A practical application would be a real estate company. Imagine how much more appealing it would be for a buyer, to have the ability to see the entire property in a horizontal panning shot. Or, from a birds-eye view at 250 feet in the air.
You are used to seeing these type of dramatic shots in movies, where they use a helicopter to achieve such shots. A helicopter can't traverse through forest trees, 30 feet above the ground though. We can.
In regards to the future, we know that the traditional camera will still be around. It's the creative means of how that shot would be accomplished that has been a thorn over past years. In the future, drones will be synonymous with videography. As well as for warfare. But that's a different discussion.
Give us the background on how Amped Marketing started.
In your era, it would be 77 years from now. Originating in 2093, select adept Specialists & Operatives in advertising, graphic design, production and coding, were united for the greater prosperity of businesses in District 9. Years of uncanny adverts and design caused too much of a stir amongst the controlling Weyland-Yutani corporation. Amped Specialists were forced through a TDE (or Time Door) allowing their living tissue and mimetic polyalloy to be sent backward in time to 2016; Common Era.
Just for fun: choose only one social media site to use for the rest of your days.
We would have to choose Instagram. Why? It's a quick pleasure site, minus the opinionated political rants, religious zealots and food pictures. The only thing it is not…is informative. We would recommend the news for that, in your time era.
On Facebook and Instagram, we run a campaign called, "NOT AMPED" or #notamped. We present to you the most comically abysmal advertisements and designs from around the world. It is to be seen. For more information on Amped Marketing, check out their website amped-m.com.
By Modern Postcard
Call a Direct Marketing Specialist at 800.959.8365.