Customer Spotlight – Cuvaison Estate Wines
Tell us about Cuvaison.
Cuvaison has been makin' wine since '69. By the late '90s, Cuvaison expanded to growing grapes on two estate vineyards located in the Carneros and Mount Veeder winegrowing regions. The Carneros vineyard is located amidst rolling hillsides on the south end of the Napa Valley, and Brandlin Vineyard is located 1200 feet above the valley floor atop Mount Veeder.
Both of Cuvaison's vineyards are sustainably-farmed and showcase the varied aspects in sun exposure, slope and soil composition necessary to produce beautifully balanced and powerful wines. With control over all farming aspects, Cuvaison can avoid over-manipulation at the winery end, and produce the best quality fruit.
Winemaker Steven Rogstad sums it up best, "My style and philosophy are based on expressing the unique character of our estate grapes and doing as little as possible to them. When one has such wonderful fruit to work with, that should be one's emphasis."
In excess of four decades, Cuvaison has deepened its roots in the Napa Valley Wine Country, and continues to be a premiere destination praised for producing a diverse selection of consistently excellent wines, artfully unique tasting facilities, knowledgeable tasting room staff and killer views!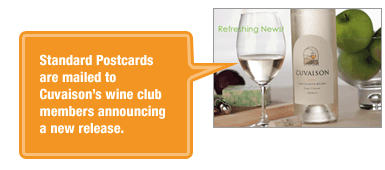 At Modern, we're committed to an enviro-friendly approach to business. Can you tell us about Cuvaison's green initiatives?
Cuvaison takes great pride in its green initiatives which range from an employee carpool program, to its solar powered winery facility in Carneros and on to its partnership with Yemm & Hart (a recycling company that converts cork into self-sustaining products). At every turn, Cuvaison exercises sustainable farming practices, which further enhance the local watershed and restore the natural habitat. Visit the "Green" section of our site to discover all the ways Cuvaison keeps it green.
Why do you choose to work with Modern Postcard over other print and direct mail vendors?
Cuvaison chooses Modern Postcard because of its quick and friendly customer service ("Hi Rikki"). Plus, Modern Postcard goes above and beyond the call of duty to provide its customers with insight on how a layout can be improved and ways they can save money. Their graphic design department ("Hi Kelvin") scrutinizes files before they are sent to the press, and is quick to notify us if any "red flags" pop up. Lastly, Cuvaison chooses Modern Postcard because of their environmentally friendly paper selection.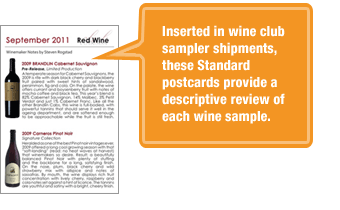 Q: You use a variety of flat and folded products ranging from Standard, Sumo Size® and Rack Cards, to 100lb Newsletters and custom "accordion" type folds. How do you put these various pieces to work for your business and what are the results?
A: Several times a year we send direct mail in the form of Standard, Sumo Size or custom postcards alerting our wine club members of new promotions. We also supplement wine club sampler shipments with an "accordion" formatted 100lb newsletters that offers our club member insider notes on the wines included in their shipments, as well as a "head's up" on upcoming events and promotions. The results are great!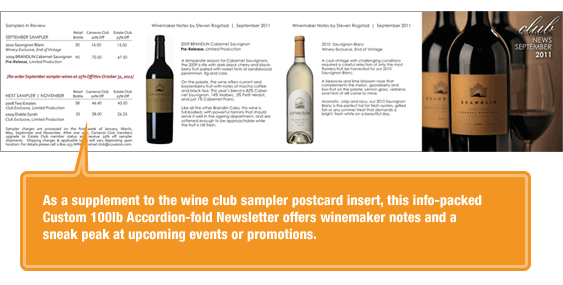 Q Do you offer wine tasting tours, wine clubs or any special events for the public?
A: Our Carneros location offers a Vineyard Walk & Tasting experience Friday through Monday, which includes an educational stroll through our Carneros vineyards followed by a tasting of our Carneros flight of wines. Our Calistoga location is one of few in Napa Valley that is permitted to offer picnicking. We take the fuss and muss out of picnicking through our Picnic Here! program. All you need to do is make a reservation online 24 hours in advance, and arrive to a gourmet picnic lunch including your choice of gourmet sandwiches, two sides, a cookie and most importantly a split of our Signature estate grown Chardonnay or Pinot Noir. Both programs offer convenient online reservations. Please see website to learn more and reserve today.
Q: Is there anything else you would like to tell us about Cuvaison?
A: We're fans of the four-legged and are open 363 days of the year; closed Thanksgiving and Christmas.
By Modern Postcard
Call a Direct Marketing Specialist at 800.959.8365.