Customer Spotlight – David Rochkind
David Rochkind produces visual media for commercial, non-profit and editorial clients. Whether shooting still photography or producing a short film, David's passion resides in telling stories that give a voice to people and communities who deserve to be heard. Having traveled to a number of poverty stricken countries, David has documented some of the most difficult and challenging health issues of our time, producing films that inspire action and motivate change.
Why did you become a photojournalist?
When I was studying at the University of Michigan, there were a variety of social issues that I was interested in, and I wanted to find a way to be involved in those issues and share the experience with others. I found that photography and visual media in general both offered me a way to learn more about important issues, and give an audience a way have an emotional understanding of those same issues.
What does a day in the life of David Rochkind look like?
This depends a lot on whether I am in the field shooting or at home editing or consulting. I now focus a lot of my time on producing videos and short films for development organizations and NGOs. That process involves a good portion of research, strategy and pre-production work before getting out into the field and shooting. The last project I worked on was about maternal health in Cambodia, and a typical day there involved meeting new mothers in impoverished rural areas, visiting health clinics and talking with community health workers.
You've traveled a number of poverty stricken countries documenting social and health issue projects – HIV in Honduras, Industrial Poison in Peru and TB in the global community, to name a few . How has this experience impacted you, not only as a photographer, but as a person?
I believe deeply in treating people with kindness and living life with an open heart. I've documented some of the most difficult and challenging issues of our time, and at every turn I'm inspired by the people I meet. I am constantly amazed at how open and kind people are to me when I am asking them to let me in to some of the most intimate moments of their lives. No matter where you are and no matter what you are doing, it is important to treat people with dignity, respect and kindness. I have learned to value everything that I have, every moment that I have and everyone who is in my life.
What you are trying to achieve or convey through the images you take while on these assignments?
Whether I am shooting still photography or producing a short film, I want to provide the viewer with an emotional understanding of the issues. I want them to understand what is happening first with their heart and then move on to the intellectual understanding. I want to move people and I want to move them to action.
How did you evolve from doing photography to video production?
Still photography is an incredibly powerful medium, but I was looking for a new way to tell stories. The act of looking at a photograph is very subjective – I may have an intention when I take a picture, but the viewer will ultimately have their own unique experience while looking at the picture. I wanted to find a way of storytelling that gave me a bit more control over the narrative. I also really enjoyed working with NGOs and development organizations and was excited about producing short films for them.
What made you decide to design your own booklet that Modern recently printed for you and what went into making it?
This was a booklet that was specifically designed for international development organizations, so I began by going through a decade of material to pick the right images for this kind of client. I used Adobe Lightroom and Photoshop to edit, select and tone the images. Because my background is in journalism, I do very little work in Photoshop on the images – just enough to bring the RAW files back to life and give them the color and feeling of reality. I decided to design this brochure myself, which was made a lot easier with the MP templates for the booklet. Once I had the images selected and the layout designed, I filled in the copy with the message for my clients.
How will you be using the booklets – who do you give them to?
I am primarily using the booklets as a promotional mailer for clients – development organizations and NGOs. I am also using them as leave behinds for meetings with Creative Directors, Directors of Communications and other prospective clients. Finally, whenever I am invited to speak at a conference I bring them to pass out to people I meet.
In this digital age, why do you continue to use printed promotions to promote your work?
Still photography really comes to life in print. This is especially true when so many of us are conditioned to only see visual imagery on a screen. We spend hours upon hours every day looking at images scroll by on a screen. The printed image offers people a different perspective to what they see every day, and it also shows that I care enough about my work to invest resources into a fantastic presentation. It is relatively easy to send over a PDF or a link to a website, but it takes a different level of dedication to design, print and mail a brochure. I want my clients to know that I will bring the same quality to their projects as I do to my own.
What kind of advice can you give to amateur photographers who want to elevate their careers to the next level?
Be passionate, be willing to sacrifice and find your own unique vision. Think of yourself as a storyteller with a voice that no one else has. Think about how you can tell a story in a way that no one else can.
What projects are you currently working on?
I'm continuing to work on my project about the global fight against tuberculosis and am developing several education and advocacy tools related to that. I'm also working on several short films for a client that deals with maternal health.
Showcase your top 10 favorite or most meaningful images.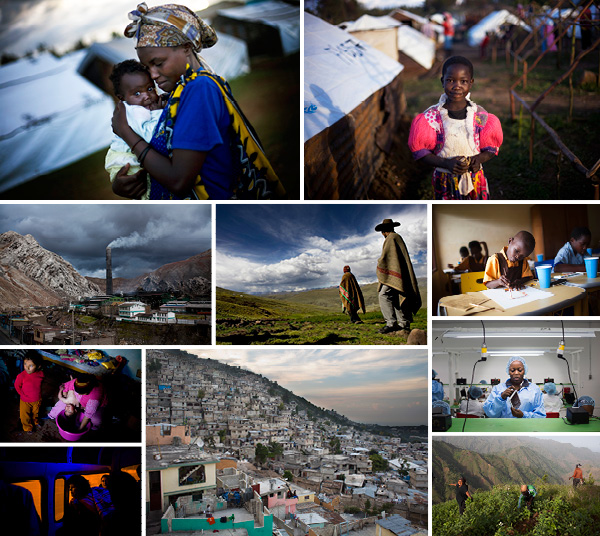 Where do you see yourself in 5 years?
Producing innovative films for clients that showcase the important international aid and development work they are doing. I want people to feel a responsibility to help improve the lives of all people, regardless of where we live.
To view more of David's work, go to DavidRochkind.com 
Call a Direct Marketing Specialist at 800.959.8365.