Customer Spotlight: The Mannik & Smith Group, Inc.
Recent winner of an SMPS Marketing Communications Award for direct mail, The Mannik & Smith Group, Inc. is based out of Maumee, Ohio and provides multi-disciplined consulting services in the architectural, engineering and construction (A/E/C) industry. Learn how their marketing team cleverly leveraged outside-of-the-box thinking and impactful direct mail design to make waves in a highly-technical (and often serious) market.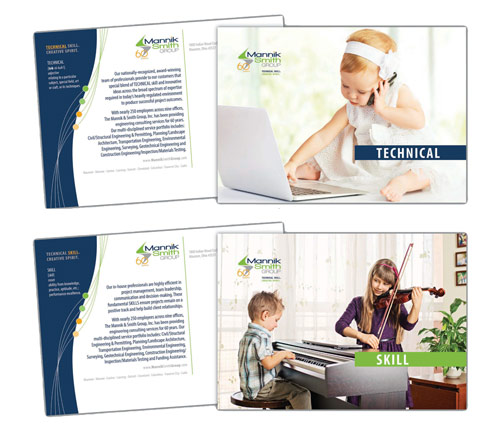 Tell us about your Marketing Communications Award and why your direct mail campaign was chosen as a winner.
The MSG Marketing Group developed a series of quarterly postcards that was quirky and designed to get a response. Little did we know, the response would come from every direction! Once our postcards began hitting mailboxes, we started receiving positive messages from recipients, prompting us to post each card/message to social media channels (LinkedIn and Facebook) for more measurable analytics.
The campaign also generated plenty of discussion internally among the engineers, scientists and marketing staff. Because of all the buzz surrounding these four postcards, we knew we had something special on our hands, maybe even award-winning. Thus, we gathered our analytics and samples, and submitted them to the Society for Marketing Professional Services (SMPS) Marketing Communications Awards competition. It is known as "the longest-standing, most prestigious awards program recognizing excellence in marketing" and those individuals and teams who create outstanding communication vehicles for architectural, engineering, design and construction firms.
The SMPS jurors determined that our entry met all the necessary criteria for an award, including: marketing objectives, quality of deliverables, research and planning, creative process, messaging and content, and results. MSG's direct mail campaign made for a memorable experience, and was honored with a national second-place finish at the Build Business: Synthesis Conference in Philadelphia, Pennsylvania during the gala event on August 11, 2016.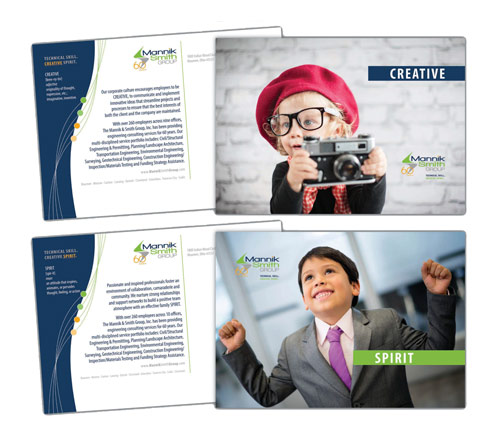 How was this direct mail campaign different from other marketing campaigns MSG has done in the past? How did it contribute to your growth?
Our approach was to tell a compelling story about the people within our firm, instead of highlighting certain engineering disciplines or specialized services. Quarterly postcards were designed to deconstruct the four words within our tagline, TECHNICAL SKILL. CREATIVE SPIRIT., to delve deeper into our brand, define our corporate goals, and describe our mission and vision as demonstrated by the people within MSG. We purchased interesting and fun iStock photos by Getty Images for the main postcard graphic, and chose Modern Postcard's deluxe postcard option with full-color on both sides to make a big impact. Additionally, we used our own mailing lists and budgeted for first-class postage to have undeliverable cards returned to us, in order to update our internal databases. Because Modern Postcard offers NCOA-Link processing to verify and automatically update addresses, deliverability was maximized and only 1.6% of our nearly 7,000 mailed postcards were returned.
Do you do any other types of print marketing outside of direct mail? How do you put these various pieces to work for your business?
MSG earmarks an annual budget for print marketing in order to get attention in a crowded digital marketplace. MSG's largest annual print marketing effort is our quarterly mailing to active contacts (last two years) from our existing database, plus new contacts made within the mailing year. Additionally, MSG develops specialized discipline booklets for targeted marketing pitches such as bridge design and inspection services, and big-box commercial retail civil site development services. These are designed and printed in-house since they are typically short run projects (fewer than 50 pieces), and the marketing budget allowance for these booklets is generally used on labor hours (design/production). These products are used for precision marketing opportunities driven by project forecasts.
Why do you choose to work with Modern Postcard over other print and direct mail vendors?
I personally have used Modern Postcard (dating back 20+ years) with each company I have developed campaigns for — whether firm branding and project-specific marketing, or on behalf of professional organizations for which I served on committees for event marketing. The templates are easy to use, the postal requirements information sections are extremely helpful, online ordering is easy, and the quality of deliverables is consistent and impressive. Furthermore, the availability to process mailing lists through the National-Change-of-Address (NCOA-Link) system saves mailing time (and postage) by standardizing address data to USPS requirements with current, coded addresses for individual and business moves. This is invaluable as it helps us to update our central client database, by editing crucial address information that is missing or incorrect.
Just for fun: choose only one social media site to use for the rest of your days.
Although, we are not on Twitter (yet?), I would choose Twitter to promote MSG. I like the quick access to news and ideas. With limited characters, I feel messages will be received and processed, and one could generate traffic to websites or other links with a simple click on an exciting story. I believe more people use it regularly (even if they don't actually tweet anything) and throughout the day; more so than Facebook, LinkedIn, or Pinterest which might only get visited a few times a week.
For more information on The Mannik & Smith Group, check out their website manniksmithgroup.com.
By Modern Postcard
Call a Direct Marketing Specialist at 800.959.8365.