Customer Spotlight – Nancy Baker, Artist
How did your career in art begin and what influences your paintings?
My career began in New York City where I attended a studio for the art of painted finishes – gilding (gold leaf or a paint containing or simulating gold), faux finished wood grains and stones. During that time I learned to see and understand color. Simply, the landscapes of coastal Maine and Early-Mid 20th Century American painters such as Edward Hopper, Twachtman, Vermeer and John Singer Sargent also referred to as the "masters of light and color" have primary influences on my work.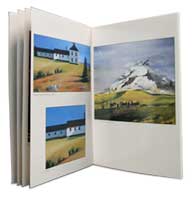 In what ways do you put postcards to work?
I use Deluxe Postcards to advertise upcoming exhibitions and announce current body of work.
Modern's new 100lb booklet product helped to make a current exhibit of yours a huge success. Can you tell us about the exhibit and response to your booklet?
First, I sold several paintings before the show even opened. The gallery received many calls in advance by clients interested in purchasing my art. Secondly, the turnout on the opening night was huge and I ultimately had the most successful show I've experienced thus far.
Why did you choose to do a booklet or "mini-brochure" as you called it?
I was working with a new gallery whose clients were unfamiliar with my work. We felt we could draw a larger crowd by introducing them to a broad mix of paintings and subjects. The booklet format was a perfect choice because it provided plenty of room to display numerous works of art.
I intentionally designed my booklet with no specific reference to exhibit dates & locations, but mailed the booklet along with a postcard that featured one painting and detailed information about the exhibit. Designing the booklet this way, I knew I could continue to distribute it for any and all future exhibits as a way to introduce various audiences to my work.
Will you use Modern's products and services again to help promote your talent?
Absolutely! I will have a postcard made to announce my upcoming exhibition which will include show dates & locations. The gallery also wants to include my booklet in their promotional mailings.
By Wendy Batara, Sr. Marketing Program Manager, Modern Postcard
Call a Direct Marketing Specialist at 800.959.8365.