Customer Spotlight – Ryan Roberts, Fashion Designer
Tell us a little bit about yourself. How did your career in the Fashion Industry begin and how has your company evolved over the years?
I was really lucky growing up. I had a great mentor in the business that saw something in me when I was just starting out and helped guide me in the right direction. I started my company based on the idea of a sweatshirt. I wanted to make my version of a really comfortable sweater for men, but in a luxurious fabric. My company now is mostly focused on women, but I still work in men's fashion. I continue to make really comfortable clothes; now I do it for both men and women.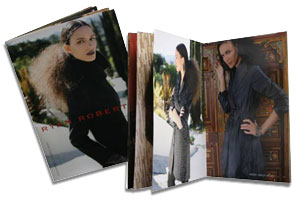 How would you describe your designs? What inspires each collection?
I think I make clothing that's pretty straightforward. I don't like overly complicated design; I think that's reflected in the clothing I create. I never want a person to feel overwhelmed. I'd rather have a person complimented for looking great than having someone say "great sweater, where'd you get it?" I think the greatest compliment I ever get from my customers is that they own something of mine and it's their favorite thing. I'm like that, I have pieces in my wardrobe that I've had for years and I love them.
You have been doing business with Modern Postcard since 2006. What keeps you coming back and how have Modern's products helped you promote your business?
Modern has great customer service. I'm a small, growing company and Modern has been instrumental in helping me figure out the right product for what I need. I'd also have to talk about the quality of the product. As someone who strives for well-made products, I really appreciate the quality of the work they do. I work in a very competitive business; I need to turn things around quickly and Modern makes this happen. Finally, it's important to me, as someone who still makes everything in the US, to work with other companies that do the same.
What do you like about Modern's 100lb booklet product?
I love the booklet because it allows me to present the collection in a bigger way. As I've grown the collection, I need to give each design more room to breathe on the page. The booklet lets me do this.
I see that you primarily use postcards to promote your seasonal collections. How do you distribute your postcards once you receive them from Modern?
The postcards are used in multiple ways. As an example, I use them to announce the opening of the collection or as take-aways at trade shows. I also use them to write notes to good customers. It's an easy way to stay in touch.
What do you have in mind for your next collection? Or is that top secret?
Each collection is always an evolution from one season to the next. It's still so early in the development stage, but when it's complete it will all be laid out on the pages of my next booklet with Modern Postcard, so stay tuned.
By Wendy Batara, Sr. Marketing Program Manager, Modern Postcard
Call a Direct Marketing Specialist at 800.959.8365.