Customer Success Story – Art Post Gallery
Who is Art Post Gallery — what do you do, and who are your customers?
We are a retail art gallery featuring original art from virtually all over the world. Typical price points are in the $1,500 to $5,000 range, i.e. high end "decorative" art, but not big name, collectable art that trades in world markets. We have a very large selection of beautiful traditional paintings, contemporary art, plus a wide range of transitional paintings.
We are also known for our works on paper, including antique maps, etchings, watercolors, serigraphs, botanicals and even antique book illustrations. Finally, we offer high-end, fine framing, art restoration services and assistance with art installation. Christina Bates has developed the business for 31 years, to a point where we now offer the largest selection of original art on the North Shore of Chicago!
We have a loyal following of long-time customers located primarily in the North Shore portion of the Chicagoland area. In addition, we sell a meaningful number of paintings each year throughout the United States and Europe as a result of our website presence.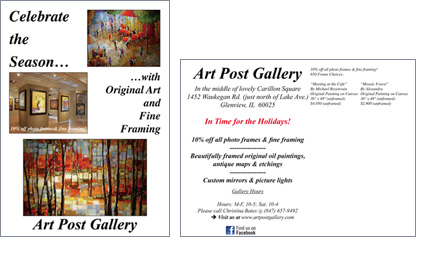 What pain points do you face in your line of business?
Like most small businesses, our primary challenge is attracting new customers. Once people find us, we can count on keeping them (and often their children!) for an extended period of time. The problem is that as our clients age and fill up their walls, their need for art or fine framing services declines. So, the problem is making ourselves known to as many prospective clients as possible, especially people in their 40s and early 50s.
How has Modern Postcard helped you solve some of those challenges?
We have experimented with a wide range of promotional activities including radio, newspaper and magazine advertising, Ravinia Music Festival (Chicago's fabulous outdoor summer music venue), Yellow Pages, Internet search advertising and the recent retention of a public relations firm. Nothing seems to be as effective as direct mail. Beginning with our first project with Modern Postcard in June of 2002, we have developed a list of roughly 15,300 clients and prospects, comprised of:
Clients who have purchased art or framing services and prospects that have visited our gallery and asked to be placed on our mailing list.
Prospects comprised of anyone purchasing a home in one of nine zip codes (our local market) with a value in excess of $500,000.
Prospects comprised of anyone in the same nine zip codes who own a home valued at $500,000 or more and whose only debt is their mortgage (i.e. no credit card balances, car loans, etc.).
Interior Designers and Architects (who are capable of directing clients to us and earning a commission).
The first three categories obviously comprise a demographic subset of the population in our market area that is willing and able to spend several thousand dollars on original art and/or several hundred dollars on a beautiful frame. Category 1 names are obviously generated internally. We subscribe to a local service that provides monthly information for Category 2. And Modern Postcard helps us identify names in Categories 3 and 4. They also regularly help us identify duplicates, as well as changes of address through their relationship with the U.S. Postal Service.
We're on a first-name basis with our entire team at Modern Postcard, led by Victoria Mazzotta. For each project, we provide a rough layout (in Word) for the card, photos for the front of the card and an updated mail list (in Excel). The team magically turns these documents into a mailing that is consistently high quality, on time and hassle free.
We have found direct mail using your postcard products to be the most effective and focused way to keep our name and capabilities in front of this target population, so that clients and prospects think of us first when they have a need for original art, fine framing or art restoration services. In addition to promoting framing sales or special shows, the cards typically feature pictures of one or two paintings. So they're quite attractive and eye catching.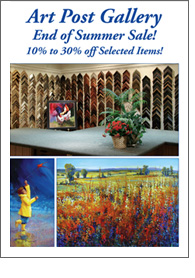 How have you managed to survive and thrive through an up and down economy?
We believe the key to an effective direct mail campaign is consistency. The old quip, "one needs to receive a message three times before it registers the first time" is certainly true. So, we average six mailings per year — in good times or bad. In fact, we are currently in production with our 62nd project with Modern Postcard and have maintained the same pace of mailings through the recent economic downturn.
We believe our return on investment for each mailing has been high, although the results are difficult to measure. We do not offer coupons or anything tangible that would allow us to calculate a precise return, but we know we only need to sell two paintings to cover the cost of one mailing. We have anecdotal information suggesting that virtually every mailing has surpassed this standard. It's not uncommon for a client or prospect to walk into our gallery with three or four postcards that have accumulated on their refrigerator!
Despite the worst art market in decades, we have maintained positive cash flow throughout the downturn. And late last year, we made the decision to invest in the business by moving our gallery 1.8 miles north to a successful new shopping center that we believe will provide greater visibility and walk-by traffic. In a nutshell, the transaction involves paying more per square foot for the same amount of square footage, in return for better traffic. Three postcard mailings are specifically supporting this move, including a late 2011 card that announced the move, an early March 2012 card announcing our re-opening and a third card announcing our "Grand Opening" in April.

Would you recommend direct mail marketing to other art galleries as a way to grow their business?
Yes — in concert with a well-developed and attractive website. We have tangible evidence that the majority of the prospects that receive a postcard and visit our gallery for the first time have visited our website before doing so. Very, very few art galleries have a national or even regional presence and can therefore afford to spend the kind of money necessary to maintain a consistent presence in a broad-based form of advertising or promotional activities. It makes little sense to us to pay for exposure to a market where a very small percentage of the covered market is a viable prospect. So, a more focused approach is required. We also believe we need to spend more time and energy focused on social media (i.e. Facebook, LinkedIn, Twitter, etc.), particularly given our desire to attract younger art buyers. Our new relationship with a public relations firm will help us address this priority.
By Wendy Batara, Sr. Marketing Program Manager, Modern Postcard
Call a Direct Marketing Specialist at 800.959.8365.