Customer Success Story – McPherson Opera House
MP: What was the Opera House Ballot Initiative?
MOH: Timing is everything. Just when the economy bottomed out, we were still $3.25 million short of completing the rehabilitation of the Opera House auditorium. I'm condensing the story here and leaving out a number of important steps, but the upshot is that we were able to have included on a city election ballot a yes or no vote on a ½% special-use sales tax for the completion of the auditorium.
MP: What role did the "Vote" postcard campaign play in all of this?
MOH: The arts organizations in McPherson, all of which would benefit from the completion of the Opera House, banded together and phoned their various members, encouraging them to vote "yes" on the ballot initiative. However, we wanted to reach a much wider audience, so we mailed the "Vote" postcard to all the registered voters in the City of McPherson, over 7,000 households.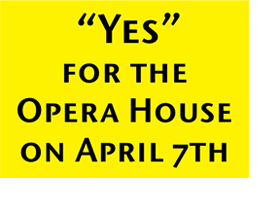 MP: What were the results?
MOH: The ballot initiative passed 52% to 48%. On the promise of the future sales tax revenue, we secured a loan to finish the rehabilitation of the Opera House, which is being paid off now that we are receiving the tax revenue.
MP: Will you be using postcards again for other campaigns?
MOH: I think a well-designed postcard is an effective marketing tool, and, as the need arises, I will certainly use postcards again.
MP: What are the future plans for the McPherson Opera House?
MOH: The Opera House truly is an extraordinary performance venue, much loved by the artists who perform onstage. Word travels fast among performers, and we anticipate an ever growing number of popular artists who want to play here. The McPherson Arts Alliance is housed at the Opera House and programs the spaces in the Mary Anderson Arts Center, and, here again, we expect an ever growing number of workshops. The Opera House also has rental spaces in addition to the auditorium: the Grand Ballroom and several other meeting rooms. We can hold events from 5 to 500 people and the demand for these spaces continues to grow.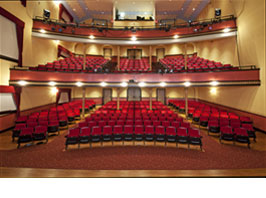 By Modern Postcard
Call a Direct Marketing Specialist at 800.959.8365.