Customer Success Story – William D. Cannon Art Gallery
How does William D. Cannon Art Gallery make the visual arts an accessible, integral and ongoing part of the community?
National quality with a regional focus. Variety and balance. Introduction of new work and artists to the region. Engaging new audiences. These are some of the primary goals of the William D. Cannon Art Gallery's changing exhibition program. The gallery presents 5-6 exhibitions annually. With museum-quality exhibitions, hands-on family activities, arts education programs, lectures and publications, the gallery has been recognized as a dynamic, accessible and integral part of the community.
You use a good variety of products such as Rack Cards, Deluxe Size Postcardsand Modern's new Booklet product. What's your strategy behind using these particular products to promote the gallery and events?
Beautiful printed pieces have always been an important part of the gallery's brand. Our exhibition announcement cards have a standardized look and design and can be easily identified as the gallery's product. The rack cards are used to advertise programs, and as "save-the-date" and informational vehicles for upcoming exhibitions and family art days and performing arts events. Creating catalogues similar to the new booklet product has been part of the gallery's mission to document exhibitions and artists since the gallery opened in 1999. The catalogue (or booklet) is a means to inform the audience about an artist or exhibition, a way to share scholarship and curatorial ideas and becomes a permanent record of the exhibition for the artist and gallery archives.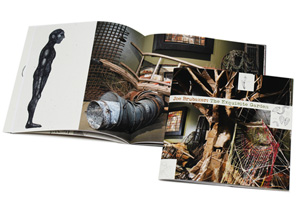 What results do you typically get from using these products as part of your promotional strategy?
Greater gallery attendance, wider knowledge of our programs and events, and greater interest from artists, galleries, collectors and museum professionals in loaning artwork and collections.
What events do you have lined up for the San Diego art community?
The gallery is fully booked with exhibitions through the end of 2014. As always, the gallery and all events are free. The next two exhibitions and some of their concurrent events are listed below:
Opening in the fall of 2012 is the exhibition "Full Deck: A Short History of Skate Art" which will feature 275 skate decks and boards, photography and artwork. This exhibition is on loan from Bedford Gallery in Walnut Creek, California. The exhibition runs from October 7 — December 30, 2012. During the run of the exhibition will be skate films and two family events: Family Open Studios on November 17, 2012 and Teen Open Studios on October 20, 2012. Both events will include hands-on art making projects, guest artists and more. All events are free and open to the public.
In January of 2013 is the gallery's "2013 Juried Biennial Exhibition" which opens January 20, 2013. This juried exhibition showcases the work of emerging and mid-career artists, and is open to artists who live, work or have a studio in San Diego County. Deadline for applications is October 28, 2012 and Call-To-Entry forms will be available in August. Artists interested in applying should call the gallery for details at 760-602-2021.
By Wendy Batara, Marketing Program Manager, Modern Postcard
Call a Direct Marketing Specialist at 800.959.8365.