Did You Just Call My Cat Fat?
The importance of providing relevant offers.
I recently received a postcard from Petco. Usually, I'm stoked. I've received coupons for $5 off my total or $3 off the bag of silly expensive food my dog with skin issues needs. I look forward to receiving these in the mail and stick them on the fridge right next to the 20% off mailer from Bed, Bath & Beyond.
So, about a month ago, I adopted a kitten from the Humane Society and subsequently dropped a big hunk of cash at Petco to get my new furball set up.
And then this card shows up in my mailbox. It's a coupon for the brand of food I purchased, which they should know because I scanned my Petco Pals Rewards Card when I bought kitten supplies. It's perfectly timed, too. The bag of food I bought is almost gone.
After checking out the coupon more closely, I see it.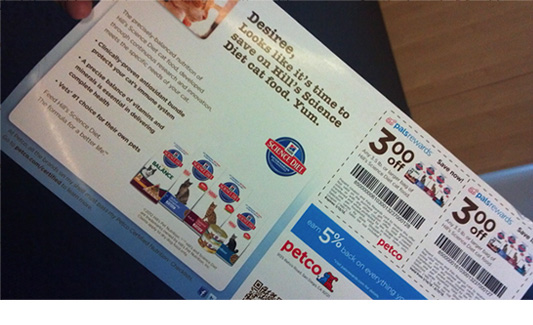 It's for DIET CAT FOOD. What? My kitten doesn't need that. I have no use for this coupon. And there are other stores closer to home. And maybe they'll be having a sale!
Do you want your customers to respond to an offer like I did? Then put any information you have about them to good use. Craft an offer that will drive response – not drive customers to your competitors.
By Modern Postcard
Call a Direct Marketing Specialist at 800.959.8365.