Does Your Biz Have a Social Calling Card?
Does your business want to increase traffic to your social media marketing channels? Do you want to encourage your biggest fans to follow you, like you and just plain interact with your business? If so, consider using our postcard products to create a calling card for your business that highlights all of your social media profiles.  There are multiple things you may want to highlight: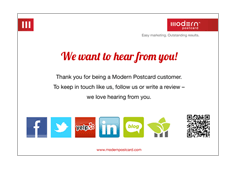 Your Facebook profile and if possible a link to your page (ie. https://www.facebook.com/modernpostcard
Your Twitter handle – you can show your handle (ie @ModernPostcard) or you can link to your profile (ie https://twitter.com/modernpostcard
Your Google+ account
Your Yelp! account
Your LinkedIn account
Your Foursquare account
Your blog
Any other avenue that encourages people to interact with you as much as possible
Add a QR code that takes the user to some of these locations
Depending on how many social media channels you want to highlight you might be fine using our standard postcard product or you may need a larger size, if so give our deluxe postcard product a try.  You will want to make sure your calling card is small enough to easily carry around but large enough to include everything you want your customers to keep in mind.
Have fun and experiment!
​By Modern Postcard
Call a Direct Marketing Specialist at 800.959.8365.