Holiday Trends to Empower Your Marketing Decisions
November is a crucial month for marketers because the holiday season is in full swing, but there's still some wiggle room to develop strong campaigns and promotional pushes before the New Year. Industry research on how, why and when today's consumers choose to open their wallets during the heaviest spending season can help your business market smarter and spend more wisely. We've included some of the latest seasonal marketing trends and statistics to keep you informed and empowered as you launch your holiday campaigns.
Surprise! Consumers May Wait to Make Purchases This 2017 Season
For the first time, more consumers say they plan to shop on Super Saturday in mid-December, rather than on Black Friday or Cyber Monday near Thanksgiving. This shift in shopping behavior could be partially due to many Americans boycotting Thanksgiving and Black Friday events, in hope that large retailers will stay closed so employees can spend time with their families. Per a recent fortune.com article, "At least 55 major stores will remain closed for Thanksgiving 2017, including Costco, Guitar Center, H&M, Ikea, Marshalls, HomeGoods, Patagonia and Raymour & Flanigan." For an updated list of stores that will be closed this year, click here.
Keep this big change in mind when you plan your direct marketing campaigns and corresponding mail dates. If mid- to late-December is going to be an even more popular shopping period than the end of November, you'll want to save some of your best deals for the homestretch. Big box and department stores (Walmart, Best Buy, Target, Macy's, etc.) print out sale offers for Black Friday and Super Saturday, all to grab those last-minute shoppers. Some sale prices were more than 50 percent off, making Super Saturday a real option for the price-conscious consumer.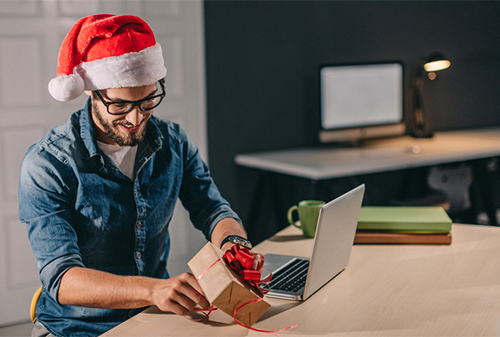 Internet Giants Lead the Industry in Targeted Marketing
Large retailers such as Amazon spend months gearing up for the holiday season, and it has paid off, as the internet retail giant recently started a growth explosion. How did this marketplace innovator jump 154 places on the Forbes' Global 2000 list of most powerful companies? It did it with targeted advertising, expanded product lines and a strong B2B lineup. Amazon's marketing checks a lot of boxes with personalization and loyalty programs topping the list. You don't need to be amazon.com to experience success: addressing prospects and current customers as individuals with tailored marketing programs is a proven tactic for better response. Read some of our loyalty program ideas here, like birthday clubs and using Personalized Direct Mail to execute customized campaigns.
From Digital to the Real World
Restaurant, hospitality and travel businesses also get a big holiday boost, possibly even bigger than retailers. According to a study from MasterCard Spending Pulse, restaurant sales in November and December have increased between 4.2% and 6.4% since 2010. The same data also found that November restaurant sales were up 8.1% in 2015 compared to the year before. That's almost double the expected growth of retail sales during the same seasonal time frame, which was estimated at 3.7% by the National Retail Federation. Airline travel has also shown to hit record highs during these prime months.
At the end of the day, the modern consumer seems more interested in buying experiences, not things. That's good news for canny marketers in related industries. Southwest Airlines regularly sends out notices about deeply discounted airfare, while many restaurants have started incentive programs that keep customers coming back, again and again. Just remember that an email often has one of the lowest capture rates for marketing, while print media draws a lot of attention. At Modern Postcard, we like to use email as a digital follow-up or reminder for direct mail offers that will soon expire.
Print Marketing is Relevant and Effective
Whether you drive business to your brick-and-mortar store or your e-commerce site, direct mail still has the pull to give you a big boost this holiday season. When asked about their preferred contact method from brands, 54 percent of respondents stated a distinct preference for content received in the mail. Not only is that the largest segment, it dwarfs every other surveyed contact method except a customized delivery schedule for email marketing.
Millennials Enjoy Direct Mail
With millennials predicted to have a combined spending power of $1.4T by 2020, this is not a segment your business can afford to ignore. Direct mail should top your list of channels to invest in this year, if you want to effectively reach this market. Here's why:
66 percent of millennials are more likely to remember to use a voucher if they have a physical copy
23 percent made a purchase due to direct mail over the last year
They plan to spend even more this holiday season
Don't miss the opportunity to generate additional revenue from prospects and customers this holiday season.
Call a Direct Marketing Specialist at 800.959.8365.
Article Sources:
https://fortune.com/2017/10/05/thanksgiving-2017-stores-closed-list/
https://www.forbes.com/sites/laurengensler/2017/05/24/the-worlds-largest-retailers-2017-walmart-cvs-amazon/#292c5b7d20b5
https://marketingland.com/wp-content/ml-loads/2012/08/iacabout.png
https://www.annexcloud.com/blog/four-keys-to-amazons-marketing-success/
https://nrf.com/research/2017-retail-holiday-planning-playbook
https://nrf.com/media-center/press-releases/156-million-americans-plan-shop-super-saturday
https://www.washingtonpost.com/business/economy/shoppers-are-choosing-experiences-over-stuff-and-thats-bad-news-for-retailers/2016/01/07/eaa80b5a-b4a7-11e5-a76a-0b5145e8679a_story.html?utm_term=.ebadc2e9a2c5
https://www.usatoday.com/story/money/2015/12/17/holiday-season-restaurant-spending-on-the-rise/76777038/