How to Launch Your Last-Minute Holiday Campaign
It's the most wonderful time of the year…for direct mail marketing! Don't miss the opportunity to stay in front of your clients and prospects this holiday season. Even if you think it's too late to market (as we enter the second week of December), you can still pull together a successful campaign as long as you have a concept, move swiftly and follow our production timelines.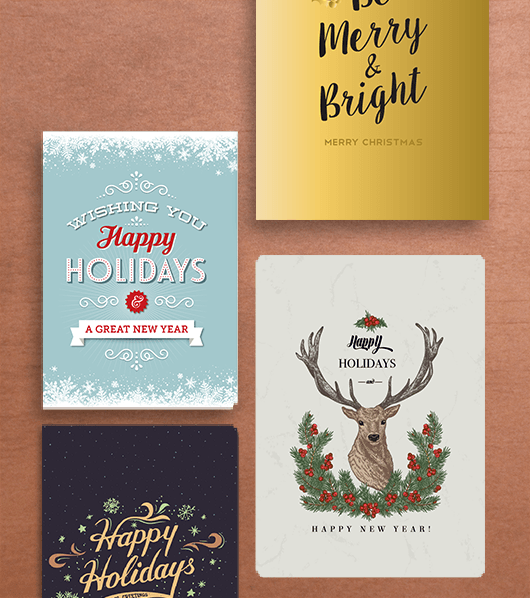 We understand the excitement of the season makes it easy to get caught-up and lose track of time, but bypassing the opportunity to stay top-of-mind with your audience is like turning your back on potential sales. While we are quickly approaching some holiday deadlines, you still have time to get your end-of-year marketing out the door and into your customers' hands.
Consider these ready-to-use campaign ideas:
  ✓  Send a holiday greeting thanking your customers and reinforcing your brand
  ✓  Launch an end-of-year sales promotion with a competitive offer or discount
  ✓  Invite prospects to a holiday open house, dinner or celebration
  ✓  Promote a special charity or cause your business supports
  ✓  Showcase teasers of new products or services to come in 2016
Important December Deadlines
If you're mailing flat cards and aiming to reach mailboxes prior to Christmas:
     1.  Submit your order on Dec. 11 and opt for our Express turnaround time*
     2.  Approve by Dec. 14
     3.  Mail with First Class Postage
If you'd like your flat cards shipped and delivered to you prior to Christmas:
     1.  Submit your order on Dec. 18 and opt for our Express turnaround time*
     2.  Approve by Dec. 21
     3.  Ship via UPS overnight
*Additional fees apply for turnaround time upgrades. Color proofs, folded products, booklets, inserting products into envelopes, specialty products or changes to your layout will require additional time.
Can't make these deadlines? No problem. Start promoting now to gain some momentum as we move into 2016. Ring in the New Year with a post-Christmas sale or build your brand with a simple "Happy New Year" greeting.
​By Modern Postcard
Call a Direct Marketing Specialist at 800.959.8365.