Ideas to Elevate Your Direct Mail and Boost Response
Our mantra at Modern Postcard is one of constant improvement. We challenge ourselves to consistently test new ideas and tactics, keep what works and learn from what doesn't work. So, our best direct marketing advice derives from these tried-and-true strategies, and we'd like to share some of them to help your business succeed.
One of our strongest, long-running campaigns — and one that has brought great results — uses Variable Data Printing (VDP) to combine personalized graphics, a strong offer and strategic timing. Successful VDP campaigns start with understanding your audience. Using key customer demographics to customize elements in the layout can result in a marketing piece that speaks to the specific individual receiving it — as if the mailer was designed exclusively for them! This not only grabs attention, but creates relevancy and increases the likeliness of response.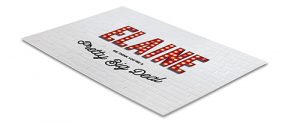 TIP: Do you need detailed characteristics of your customers? The Modern Enhancement Program can help uncover a wealth of granular, demographic information you can use to create more effective marketing campaigns.
Our ongoing VDP campaign is a post-order, follow-up campaign comprised of an incentive to place a new order, variable graphics and messaging. While post-order campaigns are a great use for VDP, there are many different scenarios in which this solution can elevate your brand and drive business. Here are a few ideas to get your creative wheels turning:
Birthday Club Mailer to Prospects
Modern can help you identify new contacts who share similar demographics with your best customers, and we can include birthday months in the data
We can help you create a monthly birthday club mailer, personalized to the recipient with imagery or offers that relate to best-fit products or services
You can reap the benefits of a smart, targeted marketing campaign
Rewards Program Mailer
Modern can help you develop a campaign that not only promotes your rewards program, but also incentivizes clients to cash in on their reward and earn more with future orders
Your ongoing VDP campaign can present differing messages based on different levels of rewards and distinct client-types, all within the same campaign
You can enjoy a loyal client base who feels appreciated and has a reason to use your product or service again
One-size-fits-all campaigns can work sometimes, depending on your marketing goals. However, responses to relevant marketing campaigns are, on average, over 4 times that of response to static, same-to-all messages*, so VDP may be worth considering — especially if you are as invested in continuous improvement as we are!
By Modern Postcard
Call a Direct Marketing Specialist at 800.959.8365.
Sources:
Caslon in their 1-to-1 Response Rate Report — Benchmark Information for Relevant Cross-Media marketing