"Katy Perry" used to be someone I simply had heard of as a random, tangential celebrity. I saw her mentioned on magazine covers at the checkout, heard folks talk about her, but I had no idea who she actually was. She was simply a name in the strange, vacuous ether of celebrity-hood.
That was until my teenage daughters mentioned her as we listened to their station in the car one afternoon. I heard a couple of songs and put it together over a couple of weeks that she was all over the radio. And, with my girls singing the songs throughout the house, I couldn't escape.
So we bought the "Teenage Dream" CD for one of my daughters for Christmas. And that's when I became a fan.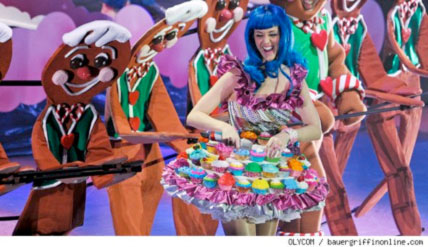 She has a unique blend of pin-up girl, pop-fun, sugary-sweet imagery, and the songs are musically catchy, well-produced, sung with passion, but also with lyrics that are at times completely inappropriate for young girls. It's a fusion of themes and concepts, and on the whole, more than a collection of songs. In the entire album, Katy Perry becomes a role, and idea. She becomes a brand.
I was intrigued. So, when my girls rented her tour movie — "Part of Me" — I watched from the back of the living room and better understood her appeal. She had a dramatic transformation from a mostly Christian musician, growing up in a strong Christian family, to a rock musician struggling to find her own style. Eventually, she evolved into the global brand she is today.
I know it's pretty old-hat to think of musicians as brands of their own. David Bowie, Prince, Madonna, and Lady Gaga have become brands with promises, emotional connections, etc. With Katy Perry, however, I was struck by both her transformation and the unique combination of girl-hood: the image of racy-strong-playful-sexy, but-laden-with-cupcakes and willing to bring young fans to dance onstage with a big furry cat called Kitty Purry.
Check out this craftster image that was inspired: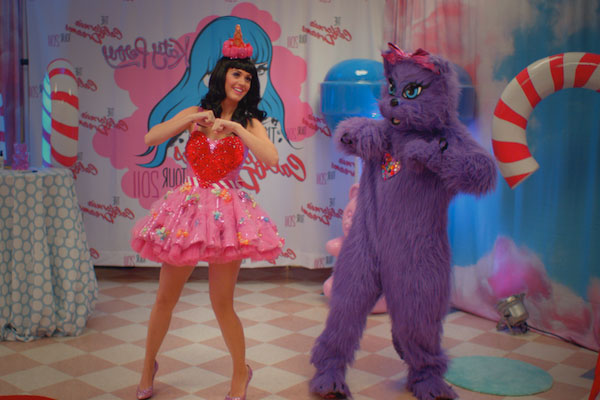 She also inspires goofball inventions, like Katy Perry the Unicorn, which has fire coming out of her horn, sneezes glitter, and urinates lemonade. (Yes, really)
facebook.com/KatyPerryUnicorn
youtube.com/watch?v=qGgDPXUOEos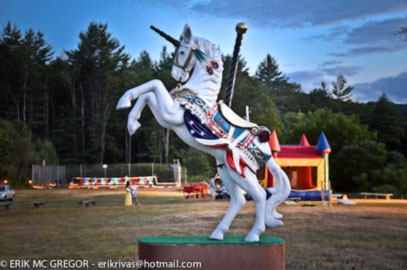 I totally get why this kooky amalgam of imagery and styles is so popular: because it's so darned fun. And being fun is such an important part of the human experience, something we naturally gravitate to, and something that I think is a key branding element.
At Modern, we have a very fun, creative, eclectic culture, and so it's natural — and important — that we show this in our messaging and communications. So I ask the creative team to "Katy Perry Me,"making sure that — where appropriate — the work is "eye-popping, jaw-dropping, head-turning, body-shaking." Just by using her name — and her brand connotations — I can communicate an expression, treatment, and impact that I'm looking for.
There are a host of brand icons that communicate a feeling, a sensibility, a range of ideas and imagery. Which ones are yours? If your brand choices help express who you are, how do you use them in your daily expressions?
P.S. If you Google "Katy Perry cupcake dress," you'll get a ton of inspired looks from crafters and others. It's really fun.
By Chris Foster
---
Christopher Foster, VP of Marketing
As a father of two and a seasoned Marketer, I'm striving for balance: romance with my wife, being a good father, contributing in excellent ways to my company, creating and maintaining good friendships, being physically active, and stretching my career to engage the San Diego marketing community. I'm writing this blog to post some ideas and observations that often are inspired by the wonderful students I have the opportunity to teach at UCSD Extension. In addition, my past and present colleagues, network, and co-workers create indelible moments. I try to link some of these ideas in the blog, and I'd love feedback from anyone who reads it.
Call a Direct Marketing Specialist at 800.959.8365.