Major League Marketing Pieces for Your Start-Up
Wouldn't it be great if the "build it and they will come" theory was true for new businesses? But unless you're Kevin Costner creating a field of dreams, you need marketing collateral to help spread the word. While a website, of course, is your leadoff hitter, printed promotional materials are equally as important for building your new brand. Here are some essential products so you can step right up to the plate and start swinging for the fences.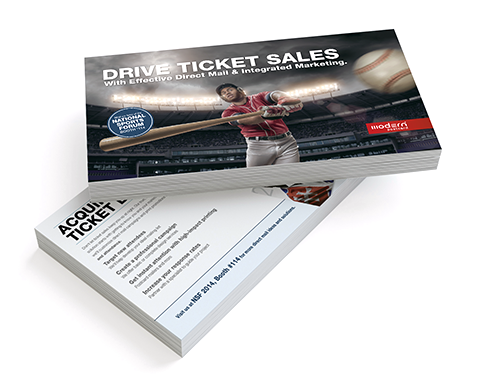 Business Cards
Networking is about making genuine connections. Arming yourself with business cards ensures you won't miss an opportunity to make memorable first impressions. Take it a step further by choosing out-of-the-ordinary business card formats, like Modern's Panoramic Triple Business Card.
Brochures
Showcase your new business to prospective customers and describe the benefits they will enjoy by making a purchase from you. When you can't say everything in person, brochures or booklets are a smart leave-behind to get your messaging and images across to prospects, on their own time.
Greeting Cards
Strengthen business relationships with new customers right away. Send thank-you notes, holiday cards, birthday greetings and everyday cards. Customize greeting cards with your logo and messaging as a nod to your brand, so you stay top of mind with customers.
Folders
Make the right first impression with a branded folder that keeps your information neat and tidy. You will look sharp, organized and like you're capable of conducting business professionally.
Survey Cards
Customer feedback is essential for any new business. It helps point out anything that needs improvement as well as highlights the things being done well. Show customers you care about their thoughts and needs with custom survey cards.
Posters
Big and bold, posters increase brand visibility to a large number of people at any given time. Utilize posters as a brand statement, a way to share useful tips, or a platform for a helpful infographic.
Postcards
Mail to prospects most likely to do new business with you. From standard to extra-large, there's a variety of postcard formats to meet your marketing needs. TIP: Modern Postcard can identify the best audience to target based on your company profile.
With these products, you can knock it out of the park right off the bat by creating tactile memories that are essential for building a good first impression of your new brand.
By Modern Postcard
Call a Direct Marketing Specialist at 800.959.8365.