Inside Modern's New Feature Films – Plus Tips for Your Video Marketing Strategy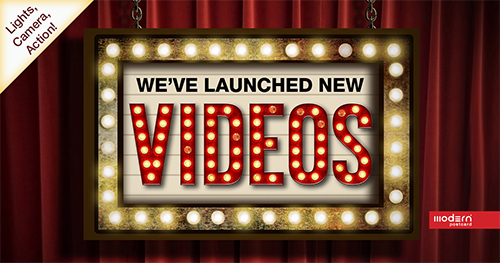 That's a wrap! After months of planning, filming and editing, Modern Postcard has made its debut on the silver screen. Okay, maybe that's a little overhyped, but we are very proud to announce the release of our new online video collection, featuring eight informative segments. Now, we can educate our clients on direct mail marketing and the benefits of working with Modern in the quick and convenient manner only online videos can provide. The collection includes six individual tutorials on the different elements that make up a successful direct mail marketing campaign. Two additional videos feature a synopsis of Modern's popular nationwide seminar along with an overview of our company. If you haven't had a chance to see them, you can binge-watch the entire series here.
It's no secret in the industry that video marketing is a great way for brands to stand out. In fact, online video is expected to account for almost 80% of consumer internet traffic in the next two years.* When done right, online videos can help businesses reach new consumers and turn them into loyal customers — similar to the way a successful direct mail campaign can engage target audiences. One of the most interesting observations for me during my involvement in our video-making process was the similarities between direct mail and videos. Here are a few ways to apply the best practices for direct mail marketing to an online video strategy:
Can't-Look-Away Value
Whether it's on a postcard or on a screen, you need great visuals to engage your audience. Our brains are wired to pay attention to motion and faces, so be sure your marketing videos include two essential items: moving images and people speaking. This is a simple but effective combination to yield blockbuster results.
Pay Attention to the Plot
It happens all the time in Hollywood. You can have A-list actors, expensive locations and flashy special effects, but if the script is a dud, you're going straight to VHS. It is essential that your video content provides something of value to the viewer in much the same way your direct mail copy must capture the reader's attention. Whether it's a can't-miss special offer, an educational message or an important announcement, tell your viewers an interesting and clear story.
No Cliff Hangers
With marketing videos, you don't want to leave your audience hanging. End with a clear call to action. Otherwise, a viewer may enjoy your message, but if they have no idea what to do after watching it, your hard work will have been for nothing. The call to action can be something as simple as your phone number or a coupon code for use on your website. For local marketing, perhaps provide a discount for any customer who mentions the video in your store.
Enjoy our videos! While there's certainly no business like show business, we're hoping our tips help your business deliver a command performance.
By Jeanine Norlin, Senior Marketing Manager, Modern Postcard
*Cisco's Visual Networking Index: Forecast and Methodology 2014-2019 Report
Call a Direct Marketing Specialist at 800.959.8365.