A Motley Mix: Marketing, Jagermeister and Opera
While an unlikely trio, these themes worked together seamlessly during Authority Rainmaker 2015, the much-anticipated content marketing conference our team recently attended in Downtown Denver. The event took place inside the modern Ellie Caulkins Opera House – and the location was a good sign this would be no ordinary conference. Marketing's best minds gathered, presented, threw back shots of Jäger, and inspired an opera house full of marketers, who eagerly absorbed the industry's best ideas.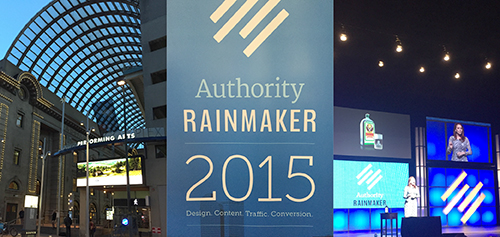 So, where exactly does Jäger come into play? Keynote speaker, marketing leader and author, Sally Hogshead, opened on Day 2 with a story about the love-it-or-hate-it liquor. After opening the infamous, green bottle and calling upon an apprehensive "Jäger Virgin" in the audience to take a shot, she posed this question: Why does Jägermeister sell so well, even though people hate it? Why do people continue to buy it when it has a terrible, toxic taste?
The answer according to Sally's experience: different is better than better.
Translation: don't focus on being the best of the best when it comes to your competition. That story is tried and tired. Rather, focus on what makes you different, special, unique and downright irresistible to your audience. Build a following of like-minded customers that can appreciate your differences – and forget about those who simply don't get you.
Sally is creator of the Fascination Advantage assessment, the only personality test that measures how the world sees you. Here's the special link where you can take the assessment and see what your built-in advantages are: portal.howtofascinate.com (code: copyblogger).
Another standout keynote was Pamela Wilson, VP of Educational Content at Copyblogger. As a business owner, Pamela gave her best advice on 3 Ways to Create a Warm Customer Experience in Person:
The Introduction: a warm introduction is the first step in building trust with a prospect. Introducing yourself can make your prospect more open to hearing from you and more likely to listen.
A Personal Touch: once you're in front of the prospect, add a personal touch. Make eye contact, have a conversation, listen empathetically. Make sure you understand their problem before you offer a solution.
Communication: after you've made the sale, focus on strong communication. Communicate to your new customer how the process works step-by-step and what is going to happen next.
How do these useful tips translate to an online customer experience? Pamela has laid out the guidelines for creating a welcoming, "c'mon in" website. Read more on 3 Online Touch Points to Create a Warm Experience:
The Homepage | AKA: The Introduction

Have a clear site name so customers know exactly where they are
Use simple navigation to make it as easy as possible for customers to take action
Use a benefit-driven tagline so users understand exactly what you do and how they can benefit

Your Content | AKA: A Personal Touch

Keep your content consistent and on-schedule, just like an owner would open and close a shop every day
Keep it informative to build trust with your audience and show you're empathetically listening to their problems
Keep it easy to consume; avoid large blocks of text and use subheads to break up messaging

The Commerce Experience | AKA: Communication

Segment your list and divide prospects into interest groups; that way they're getting relevant information and offers
Present offers in a trust-building way by using trust icons, testimonials and guarantees
Be responsive when there are issues; solve them considerately
Authority Rainmaker was filled with many marketing ah-ha moments, delivered by other presenters like Dan Pink, Chris Brogan, Sean Dsouza, Ann Handley and more. The experience has left a huge impression on our in-house team. New perspectives from truly awesome professionals are sometimes all the motivation you need to jumpstart your creativity and strategic planning for the next year. We highly recommend that you check out the show website and see if you can attend in 2016. Even if you can't make it, we're always here to help deliver on your marketing visions with the latest tactics.
Call a Direct Marketing Specialist at 800.959.8365.