Print to Click Part 2 – Direct Mail Ideas to Boost Online Sales
Last month, we explored industry statistics relating to how direct mail helps drive online purchasing behavior. Now that you're equipped with knowledge, here's a collection of ideas you can start implementing right away to improve online response rates through the power of targeted direct mail marketing.
Here are some tips that have worked for our in-house marketing team:
Mail to the right audience.
40% of the success of your direct mail campaign relies on the mailing list. So first and foremost, you need to make sure you are mailing your message to the right audience. Let's say you are trying to get females between the ages of 21-30 to visit your website and request a free product sample. Chances are, you are not going to get the desired response by mailing to everyone in a specific geographic area. You need to hone in and target your list by age and gender, and possibly other consumer-based information such as household income and specific interests. Taking the time to define your data and list selection will help you reach the right audience with a relevant offer for the best outcome.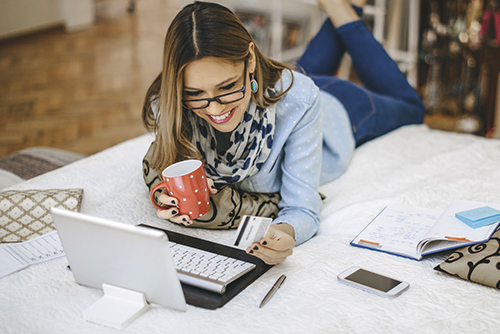 Make an offer they can't refuse.
Don't just tell people to visit your website; that's not going to be the ticket to get them there. You need to give prospects a compelling reason to visit, such as an exclusive offer, online demo, free product sample or giveaway. Here's a good example: "Visit modernpostcard.com today to request your free sample kit. Order your kit by November 1 and receive a bonus $50 Off Print coupon." I've found that putting a time limit on mailed offers increases response and has more immediate results.
Think outside of the box and try different formats.
According to the Direct Marketing Association, oversized envelopes receive the top response rates at 5.0%, followed by postcards at 4.25%, dimensional mail at 4.0%, catalogs at 3.9% and letter-sized envelopes at 3.5%. Not all people are alike and may respond to certain formats over others. Test different formats and creative against your top-performing piece to ensure you're not missing out on potentially higher response rates from a new format.
These are just a few insider tips that can help you develop an effective mail campaign that engages customers and boosts response. Our Direct Marketing Specialists are ready to provide more ideas and help you plan an effective campaign to meet your marketing goals every step of the way — from building a targeted mailing list and selecting the best format, to providing out-of-the-box design ideas, campaign planning and production guidance.
By Wendy Batara, Sr. Marketing Program Manager, Modern Postcard
Call a Direct Marketing Specialist at 800.959.8365.