Q&A: The Art of the Direct Mail Offer
To include or not include an offer on a direct mail piece is a question often on our customers' minds. While we typically recommend including a great offer and deadline to make potential customers take action, we're often asked questions like, "what exactly is a great offer?" Fortunately for our clients, Modern Postcard has many educational resources, like our Direct Mail Crash Course and in-house experts, to help answer all questions – from simple to complex. Here's a collection of some popular offer-related questions our team hears quite often.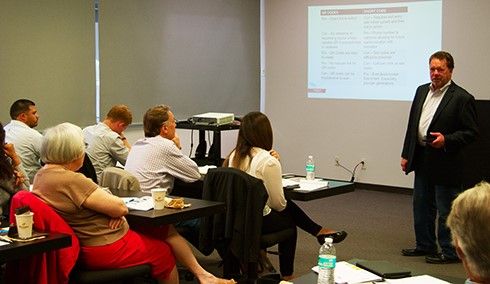 Customer A: "Is my offer good enough?"
Keith: You can ask yourself the same question. Think about it…we are all consumers, except when it comes to the products we sell. For everything else we buy on the open market, we're subjected to advertisers that influence our purchasing decisions.
I rate offers by the "get off the couch" factor. Is your offer good enough to get you off the couch? If you were sitting at the coffee table going through the mail and you came across your offer, would you, your spouse or significant other say, "we better go right now and get this – we don't want to miss out!" If you can say yes, the offer is good enough.
Remember, when you are creating an offer, it's not just to get a customer for that initial transaction but to get a customer for life. Do you think restaurants make big returns on 2 for 1 dinners? No, but if that customer comes in and buys full price dinners once a month for the next 4 years, they will pay for that initial "freebee" 30 times over.
Customer B: "Should I offer something for free?"
Keith: The free or trial offer is one of the best things you can do if your product or service will support it. In Modern's Direct Mail Crash Course, I always ask our audience to name two Fortune 500 companies that became powerhouses using the trial offer as their method.
One example is AOL, which initially used a 40-hour free trial offer that evolved into a one free month offer. Another example is Xerox, which started selling small business copiers by putting one in an office for 30 days with an offer to pick it up if the prospect didn't like it. Considering the Xerox machine replaced the old mimeograph machine – infamous for the purple sheets and alcohol smell – how many mimeograph customers do you think ever came back? Less than ½ of 1 percent.
Companies in both the B2B and B2C markets have very successfully used free trial offers. I highly recommend them.
Customer C: "If I offer something for free, does it damage the perceived value of the product?"
Keith: No, as long as your message supports the value of your product. It is always important in your marketing content to talk about the benefit (value) of your product or service to the customer. Using a free offer works especially well when offering something that the customer will continue to buy or use on a regular basis.
A great example is a restaurant, as a new customer might come back on a monthly or even weekly basis if they like the food, service and value. Other great uses for a free offering would be fitness services, car tune-ups, web services, housecleaning or anything that would lead to a long-term, revenue generating relationship.
Customer D: "What if we sell a high ticket item that people are not going to buy, just as a result of a mail piece?"
Keith: In this case, it is important that your mail piece focuses on the task at hand. It might be to encourage people to set up an appointment with a sales representative. You might also want people to visit your store or location where they will then be sold on a product or service. Therefore, it is very important to market the value of that action.
If you are trying to set an appointment, focus on the value of meeting with a sales rep. Make sure your reps are experts in their field and armed with great industry information that will better inform and educate the customer on the product or service they are shopping for.
If you are trying to get consumers into your store or place of business, communicate the benefits of the visit to the store. For example, you will give them the ability to compare several brands at once or pick up information that will help them better maximize the use of the product they are looking for.
The key here is to focus the message of your mail piece on what you are trying to accomplish, not what you are ultimately trying to sell.
By Keith Goodman, VP of Corporate Solutions, Modern Postcard
Call a Direct Marketing Specialist at 800.959.8365