The Traveling Marketer: What I Learned from Mexico
I recently found myself on a whirlwind, long-weekend adventure to San Miguel de Allende, Guanajuato, Mexico. One of my closest friends — who happens to be an art director and photographer — chose San Miguel as the prime location for his destination wedding. As a creative professional, I had no idea the amount of beauty, culture and marketing inspiration that would hit me on this incredible turnaround trip.
With a fascinating history that dates back to 1542, San Miguel de Allende is located in central Mexico. The city's name honors national hero, General Ignacio Allende, who won several victories during Mexico's War of Independence and ultimately, lost his own life on behalf of his country. Visually, San Miguel is stunning. Visitors are greeted with out-of-this-century elements: narrow cobblestone roads, original Colonial and Spanish architecture, vibrant buildings and the most ornate, hand-carved doors imaginable. And that's not even covering the amazing cuisine and freshest, most interesting margaritas I have ever been so fortunate to drink.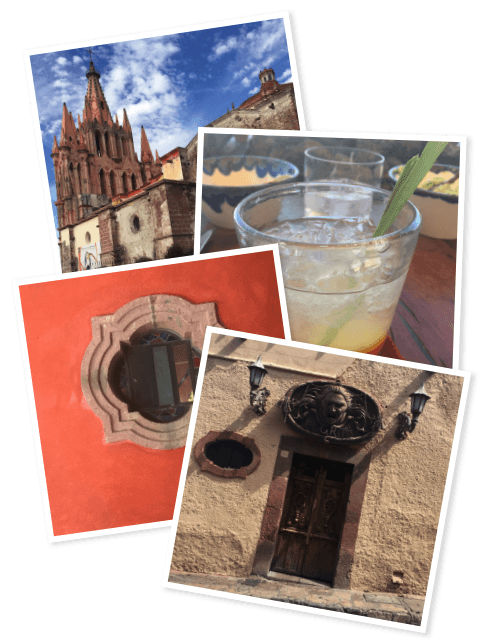 Once I was over the initial shock of being outside my American comfort zone, I started to notice a reprieve from the typical advertising and marketing messages we experience in the states. I didn't see flashy electronic billboards that change graphics every few seconds, nor do I recall seeing printed billboards. Restaurants did not have large promotional banners plastered above their doors or neon OPEN/CLOSED signs glaring at night. Businesses were not pushing social media mentions or hashtags. Our driver to and from the nearest airport conducted business with a handshake versus a confirmation email or text. From a marketing point of view, it was unusually quiet — and I took solace in the temporary peace I felt to just enjoy the beauty of my surroundings without all of the promotional noise.
That's when I started thinking, 'what can I take away from this experience and how can I apply it to my own marketing bank of knowledge?' Below is a collection of learnings from my recent travels, which I hope can inspire your own business' marketing, or at least encourage you to start thinking a little differently.
Small Details Matter
Many of us are used to a culture of mass-produced goods, immediate gratification and high-tech everything. During my travels, I experienced truly hand-made food and goods, personalized service and even hand-written restaurant tabs! While there are some hotels and businesses in San Miguel that operate in a high-tech fashion, it's not pushed in your face, which adds to the overall charm of the city and its early heritage. These days (and for this American gal), the break from technology was more memorable, more personal and a lovely nod to old-world ways. It outweighed any inconvenience I may have felt.
What are some areas in your own business that you can add some customized touches to impress your customers? It could be as simple as making a conscious effort to remember customers' names and writing them thank-you notes. Perhaps it's the small details of service: do you have great coffee and accommodations in your waiting areas or meeting rooms? Maybe it's picking up a latte for your client on the way to see them. These small, courteous touches can make all the difference between a one-time customer and a lifetime customer.
Less Is More
Like the uncluttered-by-advertising streets of San Miguel, your marketing should feel simple, impactful and beautifully executed versus shout-y, chaotic and long-winded. If you're finding a piece is getting overly complicated with too many messages, images or colors, break it out in to a three or five-piece campaign with a simple design and single concept. In the end, it's better to engage your customer base multiple times with a strategic campaign, than to jam-pack multiple concepts into a single marketing piece.
For some businesses handling their own marketing, it may feel natural to want to say it all in one piece. This thinking stems mainly from a fear the recipient won't fully understand the concept or offer unless a dictionary is thrown at them. This couldn't be farther from the truth, seeing that customers have mere seconds to absorb your marketing piece and offer. So, take heed to the advice above, be brief and make each word count.
Don't Fear Color
San Miguel de Allende and many Mexican destinations celebrate vibrancy, culture and color. I felt in a perpetually great mood seeing the cheery-colored villas and buildings beyond shades of terracotta. Orange, yellow, turquoise, purple and pink hues stood proudly throughout town — like a spectacular Southern California sunset.
In marketing, how often do we see technology companies brand themselves in shades of blue and gray and medical companies brand themselves in soothing pastels? Using color discretion can be very wise when appropriate, but don't fall into the fear-of-color trap. In direct marketing, color is often our friend. Strategically-chosen colors allow mail pieces to stand out, offers to grab attention and calls to action to speak clearly. In the end, safe colors may make you feel better, but they may not garner the best results.
The next time you travel outside of the country, take in the culture, colors, food and beauty of your surroundings to see what new (or old-school) learnings you can apply to your own business. Whether it is customer service, marketing or how you present yourself — we can all learn from one another to be the best we can be.
Call a Direct Marketing Specialist at 800.959.8365.