Trade Show Exhibiting: Don't Just Show Up, Speak Up!
You've decided to exhibit at a trade show. It probably wasn't an easy decision to make because of the costs involved, but the show meets your business goals so you're taking the plunge. Gone are the days where you could just reserve a booth, wear your best smile and wait for hordes of buyers to walk up and do business with you. Now, it's essential to promote in advance. Attendees have limited time and attention spans, and if you don't proactively seize that time and attention, your competitors will.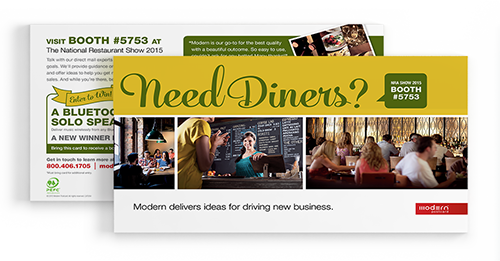 The good news is that there are a variety of pre-show marketing tactics to help you stand out and drive traffic to your booth:
Prepare a press release. Post it to your website and submit it to local media channels. You can also distribute it nationally via services like PR Newswire and PRWeb.
Add a mention on your website and a tagline to your email signature leading up to the show. Even if the show is significant to only a small portion of your audience, it's great for brand credibility.
Announce your booth on social media. Do a video teaser about what your company will be offering at the booth and post it on YouTube or via your company's social media profiles. You can also tweet about the trade show well in advance.

BONUS TIP: Be sure to include the official Twitter name or hashtag for the event to get even more exposure.
Test out some of the trade show sponsorship opportunities. Although these options tend to be pricey, they provide sure-fire ways to get your name in front of the show audience.
Reach out to your contacts and customers in the event area and get them free floor passes to the Expo Hall so you can meet with them face-to-face.

BONUS TIP: If you know you will have several direct competitors at the show, you may not want to encourage these folks to attend.
Above all else, rent the pre-registered attendee list and send a direct mail campaign right before the show. This tried-and-true method continues to be one of the most effective ways to create a buzz around your booth. The list is targeted and you can craft a message tailored specifically to that audience.

BONUS TIP: Wait until as close to the show as possible to request the list. That way you capture the most names. If you're sending your direct mail piece first class, you buy yourself even more time.
In the end, if you apply the same energy and creativity you use to attract attention to your business throughout the year to your trade show event, you'll do great. Happy exhibiting! The show starts in 5, 4, 3, 2, 1.
By Jeanine Norlin, Marketing Program Manager, Modern Postcard
Call a Direct Marketing Specialist at 800.959.8365.