The Traveling Designer: Nashville's Printmaking Legacy
As the capital of Tennessee, Nashville is known by many as the home of the country music industry – but it is far more than that. Many other forms of art abound in the city. Nashville is sometimes referred to as "The Athens of the South," and even has a replica of the Greek Parthenon. As a 20-year Modern Postcard employee, there was one stop I had to make when my family recently visited Music City: Hatch Show Print.
Even if you haven't heard of Hatch Show Print, you're probably familiar with their work: posters for famous music icons such as Elvis Presley, Johnny Cash, Louis Armstrong, Patsy Cline and so many other great artists. The print shop was founded in 1879 by William Hatch and his sons Charles and Herbert. In that era, before direct mail marketing, posters made via letterpress printing were used for advertising. If you had a show or event in Nashville, the woodblock printers at Hatch were the ones to promote it for you with their beautiful prints.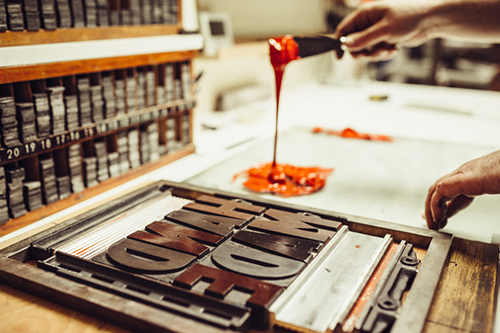 Here at Modern Postcard, we use the latest digital printing technology, going directly from computer to printer. Other times, we utilize offset lithography, creating custom metal plates to produce prints. Both of these methods make it possible to produce large quantities of quality print products quickly and efficiently.
At Hatch Show Print, no computers are involved. They still go old school, using the same letterpress printing techniques they've used since the 19th century. What they lose in efficiency, they make up with style. Using their huge catalog of antique wood letters, metal letters and hand-carved images saved over the years, Hatch produces unique works of poster art.
Our family had a great time on their print tour where we watched posters roll off the presses. My sons especially enjoyed the opportunity to hand ink and roll their own woodblock print, creating a poster of their own. Plus, we couldn't resist purchasing a monoprint work of art in their gallery, by Hatch's own Master Printer Jim Sherraden. Their shop is open to the public for tours, and I would highly recommend paying them a visit the next time you're in Nashville. To learn more about visiting Hatch and their letterpress techniques, go to hatchshowprint.com.
By Sven Johnson
Call a Direct Marketing Specialist at 800.959.8365.