USPS News: 2017 Postage Rate Changes Set for January 22
Back in April of 2016, the industry was pleasantly shocked by the USPS®announcement of a historic postage decrease that had not occurred for over 100 years: the postage rate for a 1oz letter (First Class stamp) dropped from 49 cents to 47 cents. And now, less than one year later, the direct mail industry has been informed of new postage rate changes that will take effect on January 22, 2017.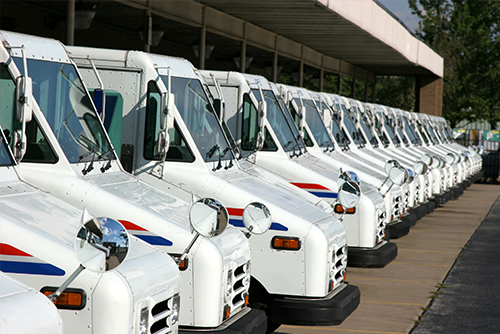 These upcoming changes were approved by the United States Postal Regulatory Commission* (PRC) in November 2016. Here are some quick facts regarding what is changing and how it may affect your business' direct marketing programs:
• First Class Stamps and high-end rates of Presort First Class category
will increase
• Non Profit postage will decrease
• Portions of rates from Presort First Class and Standard categories will
decrease
• Some postage category names will change:
◦ Standard will change to Marketing Mail
◦ Non Profit will change to Non Profit Marketing Mail
• Changes will take effect on Sunday, January 22, 2017
RATE CHANGE CHART
For Modern Postcard's frequently-used postage types:
Postage Type
Current Rate
New Rate
Impact
First Class Single Piece (Stamp)
47¢
49¢
Increase
Postcard Single Piece (Stamp)
34¢
34¢
No Change
Presort First Class*
41.9¢
42.3¢
Increase
Marketing Mail* (formerly Standard)
29.1¢
28.8¢
Decrease
Non Profit Marketing Mail*
(formerly Non Profit)
15.9¢
15.4¢
Decrease
*Postage rates within these categories are based on not claiming destination entry discounts, so the rates quoted above reference the highest rate within the range.
For full rate change info, refer to the January 2017 Price Change Fact Sheet.
Modern's 2 cents on the postage rate news:
While the increased rates may sound like doom and gloom for business owners and direct mail marketers, there are quite a few positives. First, the price of First Class stamps at the 49-cent rate had been the standard for several years. While we enjoyed the last eight months with the rate of 47 cents, we are in many ways, returning to the norm. Plus, Forever Stamps will still be valid without any additional costs. Second, a definite upside is the rate decrease for nonprofit organizations and marketers. While a 0.5-cent decline may not sound like a lot, it adds up and can assist the businesses who focus on helping their communities. Third, the rates at the high end of the range for Standard Mail (soon to be Marketing Mail) will decrease ever so slightly by 0.3 cents. While it's not drastic savings, it will certainly help the budgets of automated direct mail campaigns that fall within this postage type.
Now, let's address the other changes. Presort First Class will experience a minimal 0.4-cent increase for some segments within the mailing category (as listed in the chart above); however, it will actually decrease for other segments. The new mailing rates for Presort First Class will range from 37.3 cents to 42.3 cents, so mailers who claim destination entry discounts may see a slight decrease, and those who don't claim these discounts will see a slight increase.
If your business is concerned about postage rate changes overall, there is more positive news. The team at Modern Postcard is happy to report that our mailing services clients get the lowest possible postage rates, since every mailing order is analyzed to ensure maximum savings. While it's likely the USPS and PRC will make rate changes over time, you can rest assured your business will get the most savings possible when you partner with the direct mail experts at Modern.
For smart direct mail ideas that can best serve your business during the USPS postage rate changes, call our team of Direct Marketing Specialists at 800.959.8365.
If you're interested in learning direct mail marketing from the pros, register to Modern's FREE Direct Mail Crash Course. Attendees learn insider tips to get new business and receive $250 in FREE printing to use on future campaigns! For the latest seminar dates and locations, and to reserve your seat, visit modernpostcard.com/seminar.
*About The Postal Regulatory Commission
The Commission is an independent agency that has exercised regulatory oversight over the Postal Service since its creation by the Postal Reorganization Act of 1970, with expanded responsibilities under the Postal Accountability and Enhancement Act of 2006. The Commission is composed of five Commissioners, each of whom is appointed by the President, by and with the advice and consent of the Senate, for a term of six years. A Commissioner may continue to serve after the expiration of his or her term for up to one year or until a successor is confirmed. No more than three members of the Commission may be from one political party (www.prc.gov/about).
By Marc Ortiz, Mailing Data Manager, Modern Postcard
Call a Direct Marketing Specialist at 800.959.8365.