Valentine's Day History: From Roman Fertility Rituals to Greeting Cards
Imagine attending a huge Valentine's Day festival where unclothed men run wild, using strips of leather to whip young women's fertility into shape. Luckily, we live in the twenty–first century where February 14 is celebrated with cards and flowers instead.
So, how did Valentine's Day go from a raucous pagan party focused on increasing female fertility to a lovey-dovey day filled with chocolates, greeting cards and sweet poems? Only history can explain its drastic evolution. According to nationalgeographic.com, "The annual pagan celebration, called Lupercalia, was held every year on February 15 and remained wildly popular well into the fifth century A.D. — at least 150 years after Constantine made Christianity the official religion of the Roman Empire."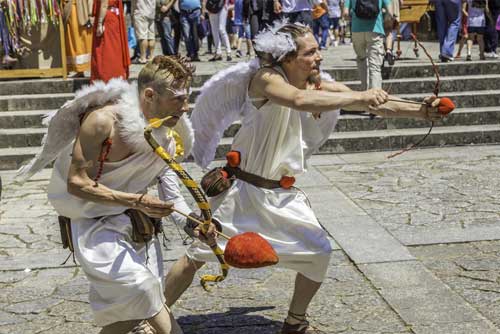 While Christian leaders weren't too fond of the shenanigans surrounding Lupercalia, it was such a popular celebration that they adopted and attributed it to the legend of St. Valentine. Back then, Roman Emperor Claudius II needed to grow his army to pursue his cruel and unpopular acts of war. To achieve this, he banned men from marriage, since he needed warriors focused on battle instead of beautiful maidens. As the legend goes, Valentine was a holy priest in Rome who performed marriage ceremonies in secret, defying Claudius' strict orders. While he promoted true love and holy unions, it all came at the highest price: they say Valentine was executed on February 14 on or around A.D. 270.
"Legend also has it that while in jail, St. Valentine left a farewell note for the jailer's daughter, who had become his friend, and signed it 'From Your Valentine.' For his great service, Valentine was named a saint after his death," according to history.com.
Whether it's all fact, fiction or simply the stories early Christians used to transform Lupercalia, it is how Valentine's Day emerged and radically evolved over the centuries. Below are some modern-day facts on how consumers celebrate and spend money for this special holiday:
According to the National Retail Federation's 2016 Valentine's Day Consumer Spending Survey conducted by Prosper Insights and Analytics, "54.8 percent of consumers will celebrate Valentine's Day, spending an average of $146.84 on flowers, jewelry, candy, apparel and more, up from $142.31 [in 2015]."
Per the Greeting Card Association, "The second-most popular seasonal cards are Valentine's Day cards (145 million units purchased, not including classroom valentines)." Also, "Women purchase an estimated 80% of all greeting cards. Women spend more time choosing a card than men, and are more likely to buy several cards at once."
Esther A. Howland was the pioneer of mass-produced Valentine's Day cards in America — read our tribute to Esther
Singles Awareness Day is celebrated on February 15, and is either touted as the anti-Valentine's Day or the perfect occasion for single friends to exchange gifts and get together
Galentine's Day (created by actress Amy Poehler's Parks and Recreation character Leslie Knope) is celebrated on February 13 and is meant for women to spend quality time with their best gal-friends
Proflowers.com explains, "The history of giving your loved one Valentine's Day flowers comes from the old-fashioned custom of sending floral bouquets to pass on non-verbal messages. Introduced in the 18th century by Charles II of Sweden, each flower had a specific meaning attached to it, making it possible to have an entire conversation using only flowers."
Professional Greeting Cards
If you'd like to print and mail custom greeting cards that help promote your business during any seasonal holiday, check out our different product options, from flat postcards to folded greeting cards. We can also help you think outside the postcard with unique die cut shapes, glitter coatings, shiny foils and so much more.
Call a Direct Marketing Specialist at 800.959.8365.
Sources:
news.nationalgeographic.com
history.com
greetingcard.org
nrf.com
proflowers.com
bustle.com
dublinescape.com