Customer Spotlight – Eco-Me, LLC
Customer Spotlight
Joyce Frenzel – Eco-Me, LLC
What type of business is Eco-Me?
We are a natural products company. We create and sell kits for people to make their own natural, non-toxic, chemical-free Home Cleaning, Body & Baby Care, and Pet Care Products. We also sell a line of already made All Natural Cleaners including All Purpose Cleaner, Wood Polish, Scrub Cleaner, Dish Soap, Laundry Soap, and Carpet Deodorizer.
How do you use postcards to promote Eco-Me?
We send postcards to sales representatives to promote our products. Stores who carry our products also use them as handouts to educate customers with more information about our products.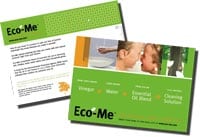 What other types of marketing do you use in addition to postcards?
We promote products on our website and do marketing via emails and paper mailings.
How has Modern Postcard helped you with your postcard campaigns?
They have provided an easy and efficient, cost-effect way for us to promote in large volumes.
Do you plan on using more postcards in the future?
Yes, it is anticipated