EF | STUDIO – Eddie Funkhouser, Kai Kaden
Customer Spotlight: EF | Studio
How did your career as a professional make-up artist and developer of cosmetic products begin?
Kai: This one is for Eddie Funkhouser Co-Founder EF | STUDIO.
Eddie: I would have to say my career began unknowingly as I adoringly watched my mom put on her makeup every morning. As I grew older she would let me line her eye and eventually I found myself treating her to makeovers. She also sold AVON. As a child I would help her pair samples to each order she was going to be delivering.
What inspires the development of your product line and unique color palettes?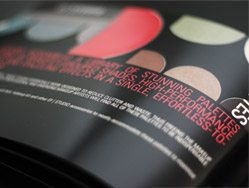 Eddie: We live a very colorful life! We live in the East Village in New York City need I say more? But honestly inspiration is a stone's throw away. Staying present to notice it when it is there is the real trick
Our 100# booklet was your first order with Modern Postcard. How would you describe your experience – from initial contact to receiving the final printed product?
Kai: EF | STUDIO is a process driven company, so finding the right partner who 'gets it' was absolutely essential. We can't afford to miss a beat with such tight deadlines. So Modern Postcard was a very good fit for us. From order placement, to proofing, through to production and finishing, I could rely on 2 solid communication streams from Modern Postcard: their automated job handling system, which is sophisticated and invaluable in the field – as well as direct communication with our account representative, Dana. Dana not only kept us in constant sync with the status of our job, she provided on-the-fly solutions which positively impacted our final product. This, to us, is the true meaning of 'added value'.
Your 24 page booklet is nicely designed and holds a wealth of product information as well as a unique story about the inspiration behind the new EF | STUDIO cosmetic line. Who put together the design, content and images for your booklet?
Kai: KADEN, the creative agency I founded in 2001 was responsible for completely developing the creative for the catalogue from brand and product photography, to layout. Having these services integrated in the agency has allowed EF | STUDIO to realize enormous savings, while maintaining compressed schedules. KADEN has a history of developing great creative for emerging and legacy beauty brands around the world.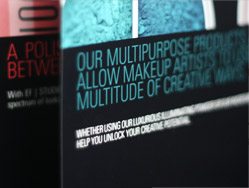 What do you like best about Modern's 100# booklet and how do you put it to use?
Eddie: It really brought our work to life and we didn't have to sell the farm to afford it! We created this piece as an initial introduction to our brand while other elements such as our e-commerce site was being developed. It was important to have something we could use to communicate the brand through. Equally so, it was important for prospective partners to have something they could hold on to, look through and connect with.
Are your products only available to professional make-up artists or are they also available to the general public?
Kai: Our products are created by Eddie. He is involved in each and every step of the creative and design process when it comes to developing formula. Since Eddie has worked not only as a professional makeup artist for over 10 years he began his make-up career working as a make-up artist at Bloomingdales' 59th Street in Manhattan. This is what is so special and unique to our brand. Our products are designed to hold up to the rigors of the studio and at the same time are engineered in a design meets functionality way. This make our brand equally ideal for the professional as it is for the novice looking for a brand that will nurture their creativity and demand for high performance.