Fast Fact: Direct Mail is the Top Purchasing Decision Influencer for Internet Users
ExactTarget's "2008 Channel Preference Survey" asked US internet users to judge the acceptability of various channels for marketing purposes. On a scale of 1 to 5, respondents give direct mail an average score of 3.9, followed by e-mail at 3.7. All other channels average under 3.
In addition, nearly two-thirds of those surveyed say they have made a purchase because of a marketing message received through email – and even more (three-quarters) say they have made such a purchase in response to direct mail.
US Internet Users Who Have Made a Purchase Due to Receiving Marketing Message (by Age and Top Channels)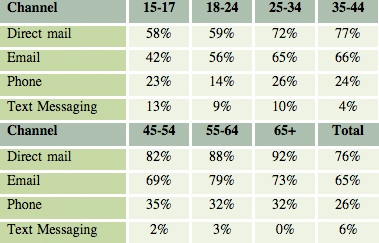 Source: ExactTarget, "2008 Channel Preference Survey", May 2008
Reprinted with permission from Print in the Mix – A Clearinghouse of Research on Print Media Effectiveness