Suzi van der Sterre, American Academy of Audiology
Customer spotlight on American Academy of Audiology.

What is the American Academy of Audiology and when/how was the company founded?
The American Academy of Audiology is the world's largest professional organization of, by, and for audiologists. The active membership of more than 10,000 is dedicated to providing quality hearing care services through professional development, education, research, and increased public awareness of hearing and balance disorders.
The organization was founded in January 1988, when 32 audiologists met in Houston, Texas, to discuss the formation of a national association of audiologists. This association would be an essential part of every audiologist's life. Together, the members would strive to advance the science and practice of audiology, and to achieve the recognition of the public as experts in hearing and balance.
What is your primary role in the company?
As the Senior Graphic Designer, I am responsible for the art direction of our member magazine, Audiology Today, conceptualization and creation of all print materials, including postcards, posters, brochures, stationery, etc, and maintaining the Academy's brand.
You did a three-card direct mail campaign using our 4/4 Deluxe postcard to promote the convention AudiologyNOW!®, recently held in San Diego, CA. Can you tell me the objective of the mailers and the strategy behind your postcard campaign?
In previous years, the only promotional convention material we sent to our members was a 60-page preliminary program. Not only was that expensive to produce and mail, but also we weren't hitting our members with AudiologyNOW! information consistently throughout the year. This year, we decided to drop the preliminary program (as all that information was on the convention's website), and produce a three-card direct mail marketing campaign that would go out to all members starting 7 months prior to AudiologyNOW! Each postcard was designed to look like a retro travel postcard, and reinforced a part of this year's theme, "Invest in Yourself, Invest in Your Patients, Invest in Your Future." As an incentive, we asked attendees to bring all three postcards to San Diego to participate in a raffle for a chance to win free registration and hotel for AudiologyNOW! 2011.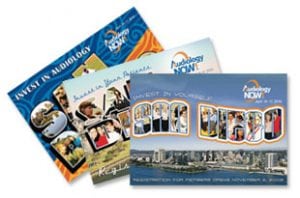 What were the results? Did you have a high response and did the mailings contribute to a successful event?
We had our highest attendance to date—7,333 and the raffle was a success as well!
This direct mail campaign is American Academy of Audiology's first project with Modern Postcard – we'd like to know what brought you to Modern?
Modern Postcard was used for quite a few mailings at my last place of employment. Since we were consistently happy with the service and final product, I knew that the process would be easy and I would get a great product for this first-time project.
Will you be using Modern's products and services again for future promotions?
Absolutely!