Every Door Direct Mail (EDDM) or Targeted mailing, what's best for you?
Our customers often ask what is the best way to mail to consumers at an affordable rate. Our answer is usually, "It depends on your goals and audience." That's because mailing via EDDM can save you money, but it can also be less personal and targeted.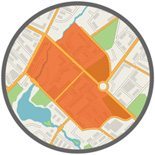 Mailers saturate a carrier route.
Save with low postage rates
No list purchase required
7-14 days to deliver
Specific mailer sizes only
Goes to ZIP Codes in city routes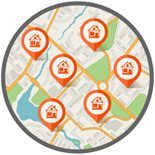 Mailers reach desired addresses.
Variety of postage options
No waste, target your audience
As fast as 3 days to deliver
Variety of mail piece sizes
Goes to any mailable address
Modern's full EDDM services include:
Evaluating to see if EDDM is right for your business goals
Reviewing design files for EDDM compliance
Creating an EDDM layout file from scratch
Printing, bundling, sorting and delivering your mailing to the right post offices
IMPORTANT: Contact us about EDDM guidelines before preparing your order