Direct Mail Gets and Keeps Customers
A proven powerhouse for retention and acquisition.
Direct Mail Marketing reaches more customers and drives more sales.

If Direct Mail isn't part of your marketing strategy, you're missing out on a huge opportunity to retain and acquire more customers for your business.
In fact, studies prove that Direct Mail:
Outperforms digital response rates by 600%
Generates a higher brand recall among consumers
Is guaranteed to be seen by 90% of your audience
Direct Mail puts your message directly in the hands of your customers and prospective buyers, making it one of the most targeted, highly effective forms of advertising to drive response and sales.
Learn why successful businesses rely on Direct Mail.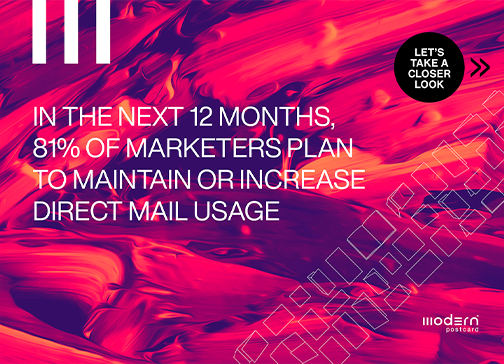 Your partner for successful Direct Mail programs.
When you work with Modern, you'll gain a team of Direct Marketing Specialists that will guide you through six steps to implement Direct Mail programs that drive results and sales.
We'll help develop a strategy for best results.
40% of direct mail success relies on your list.
Direct Mail should grab attention in seconds.
Stand out with superior print products.
Lowest postage rates, highest deliverability.
Learn how to measure and improve ROI.
Industry experts, friendly service, and positive results.
We're in the business of promoting
your
business in the most efficient and effective way possible.
Whether you're a long-time client or first-time customer, you'll experience impeccable service and big-picture marketing strategies that will help your business thrive.
Direct Marketing Specialists
Guided by a team with over 25 years of expertise.
List and Data Services
Helping you target the best audience for better response.
Professional Graphic Design
From simple layout help to complete design services.
Mailing Services Experts
Every mailer is analyzed for optimal delivery, savings, and results.
Watch and Learn: Direct Mail Best Practices in Minutes!
Start with a free
Direct Mail Consultation!