Excellent! Thanks for contacting us.
Ken, our Modern iO Specialist, has developed postcard retargeting programs for national, regional, and local businesses. Some of his clients send thousands of cards per day, some dozens per day.
Schedule a call with Ken via this Calendly link to see how Modern iO fits your business.
Now that you've made a great first step, here's a good story with a compelling character…
In a world of fierce competition in e-commerce women's apparel, see how a boutique retail business owner got a low cost-per-new-customer-conversion, and a massive Return On Ad Spend. This case study shows how Blue Canoe went from discovery, investigation, trial, then advocacy of this wildly effective marketing channel.
"There's a gut-level reaction to seeing how many visitors left your site but could be mailed to each day.
We are thrilled with the results. We're now seeing 8x Return on Ad Spend. And, when I factor in Lifetime Value, it's 19x Return."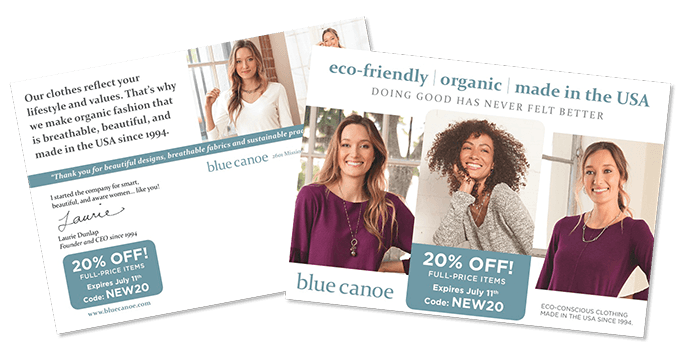 There's a lot more to Modern than just Postcard Retargeting.
Modern Postcard is a leader in Direct Marketing services, helping businesses integrate Print and Direct Mail Marketing that drive new customer growth.
Printing
Direct Marketing Postcards, Business Cards, Catalogs…
Direct Mail
Complete In-House Direct Mail For Any Business
Digital Marketing
Integrate Digital With Direct Mail To Increase Response