We make it easy and affordable for you to do more good in the world.
The Non-Profit space has more digital avenues than ever, and response statistics show that all digital channels are made more effective with Direct Mail.
There are two questions typically asked about Non-Profit Direct Mail: 
"Does Direct Mail still work?"

"Can I afford it?"
The answer to both questions is a clear "Yes." Whether you're a University, Private School, 501(C), Museum, Arts Organization, Charity, Foundation, etc., Non-Profit Direct Mail has an average response rate of up to 6%, versus 0.1% for social media marketing to a 0.5% to 3% for Email.* Clearly, Direct Mail is an effective marketing channel.
When you integrate Direct Mail with digital and social channels, you create a stronger, real-life, physical connection with your donors and audience. And unlike Facebook ads which can be easily scrolled-over or emails that are overlooked or forwarded away to a Promotions Tab, Direct Mail has a 100% open rate…because it's literally in the hands of your audience.
And speaking to affordability, Modern has exclusive Non-Profit print prices, mailing rates, and postage savings to help stretch your budget to reach as much of your audience as possible. In addition, our List Services will create a targeted list to reach your audience, or create a Customer Profile of your mailing list to see their demographic profiles.
Non-Profit Postage Rates!
Non-Profits get special treatment from the USPS with reduced postage rates. And, the team at Modern has the technology and experience to help you get even more savings. Learn more.
Gain exposure with these Print and Direct Mail ideas:
Flat Postcards: Business cards, conference invites, save the date cards, gala invites, fundraiser handouts/mailers, calendar of events, program schedules, event handouts, exhibition mailers, membership renewals/drives, volunteer recruitment
Folds & Tri-Folds: Same as above, business reply cards, donation brochures/requests, event invitations, newsletters, birthday cards, holiday greetings, art cards, newsletters, event invitations/registration, memberships/donation requests
Booklets: Annual reports, program booklets, calendars, event guides, campaign initiatives
TIP: Think about using Envelopes as tip-ins for self-mailer donation requests, mailed event invites inserted into Envelopes, and RSVP envelope replies. Ask us.
Lift Response with High-Performing List Targets: 
Donors of various causes, especially major museums and galleries
Affluent households in the area; families with children
Consumers with similar demographic attributes, plus current members and donors
*Some Quick Facts about Non-Profit and Direct Mail:
78% of donations for Non-Profits come from Direct Mail

56% find print marketing to be the most trustworthy type of marketing

48% of people retain Direct Mail for future reference

44% of customers visit a website after receiving Direct Mail marketing
*The DMA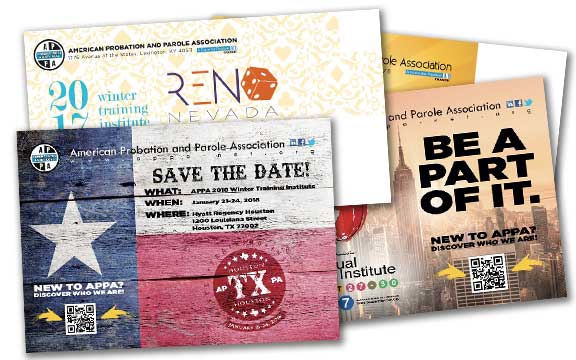 Modern Postcard is ALWAYS my go-to for their expertise, quality and timely delivery…highly recommended.
Direct Mail Crash Course
Coming to a city near you, we offer FREE Education on how to create impactful and effective Direct Mail Campaigns.
FREE Marketing Guide
Gain insider tips and expertise that will help you launch effective direct marketing campaigns.