Postcard Retargeting
Increases Website Conversion
High-impact postcard retargeting converts your web traffic.
We built

Modern iO

postcard retargeting for marketing teams who want to increase online conversions.
Many of our clients are seeing impressive Returns on Ad Spend of 9x to 15x.
Today, digital retargeting isn't enough.
Ad blocking software is on 30% of devices.
You need to fill that gap in your retargeting funnel.
Crush conversion rates with Postcard Retargeting.
Like most marketers, you probably have a challenge converting website visitors. Fix that. Reach customers who have already expressed an interest in your site…with Postcard Retargeting. With a 100% open rate and stronger conversion than digital, postcard retargeting is now a proven channel that fills a gap in your marketing and sales funnel. We can show you how.
No minimums. No contracts. No set-up fees.
You control the budget and quantity.
We do everything. All the services are included in the price. Set-up, data pull, creative, printing, mailing, reporting.
Your unique dashboard will show you mailed cards, delivery, even conversion tracking and return to site visits.
If you want to mail 5 or 5,000 cards per day, we can handle it.
Check out FAQ's and Tag Set Up for more information.
Real-Time Reporting

• Monitor the number of cards mailed each day
• Track return-to-site and conversion page

• Learn your top URLs you can mail to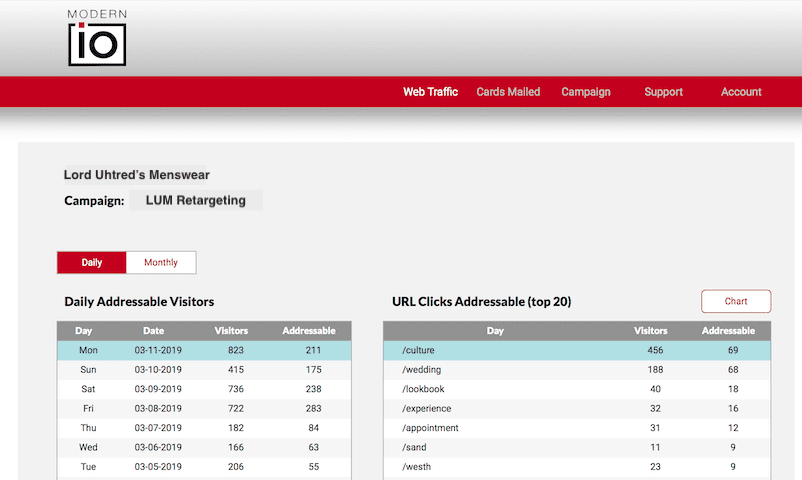 The Case Studies don't lie:
Our Retail and Service clients have seen astonishing success with postcard retargeting. It makes sense: they're using physical direct marketing to reach potential customers who already expressed an interest.