Postcard Retargeting converts visitors who leave your website. 
97% of your website traffic leaves without converting.
Your business is counting on you to get them back.
With traditional digital retargeting bringing only 0.7% of visitors back to your site,
you need more help converting with something proven to work.
"There's a gut-level reaction to seeing how many visitors left your site but could be mailed to each day.
We are thrilled with the results. We're now seeing 8x Return on Ad Spend. And, when I factor in Lifetime Value, it's 19x Return."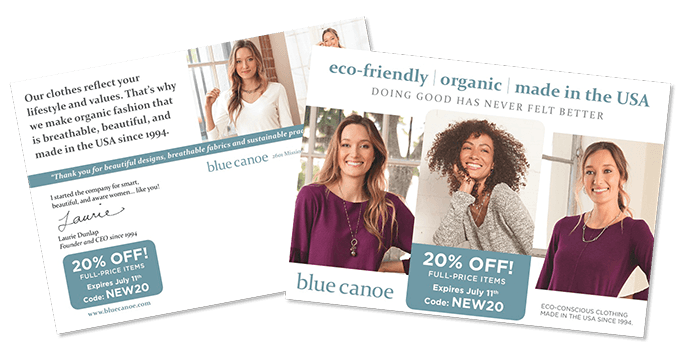 Traditional digital retargeting is good…

…but doesn't reach the ad-blind, ad-blocked, and ad-annoyed.
Postcard Retargeting has been 20x more effective in bringing web visitors back.*
Discover why the problem you're facing
can't be fixed just by traditional digital retargeting.

Postcard Retargeting activates the brains of your customers. See how it works.
No Minimums. No Contracts. No Setup Fees. 
It's a clever and simple solution: our tag on your site tracks all your website visitors. We're able to match about 50% of the traffic to mailable addresses in a privacy compliant way. Then we send out postcards every day to your targeted audience. It could be 5 cards a day, or 5,000. We're flexible based on your budget and goals.

*Clients see 5% to 25% of the mailed prospects return to their sites.
That's 20x more than traditional digital retargeting. 
All-inclusive services.
You control the budget and quantity.

We do everything. All the services are included in the price. Set-up, data pull, creative, printing, mailing, dashboard reporting.
Check out FAQ's and Tag Set Up for more information, or call 800-959-8365.
Real-time reporting via your campaign dashboard. 
We built the Modern iO Postcard Retargeting solution to be complete and comprehensive with an easy-to-follow campaign dashboard that organizes your campaign:
Monitor the number of cards mailed and delivered each day
Track return-to-site and conversion page visits
See how many visitors, and addressable cards, apply to each page
Plot mailings on a map to see national distribution
Preview and Approve creatives
Adjust daily card volume and spend