Postcard Retargeting converts your website visitors.
Some of our Retail clients are seeing 9x Return On Ad Spend.

Check out this 2+ minute video to see how it works.

It's such a compelling story that after the video you'll most likely want to sign up for the FREE Webinar to learn more.
"There's a gut-level reaction to seeing how many visitors left your site but could be mailed to each day.
We are thrilled with the results. We're now seeing 8x Return on Ad Spend. And, when I factor in Lifetime Value, it's 19x Return."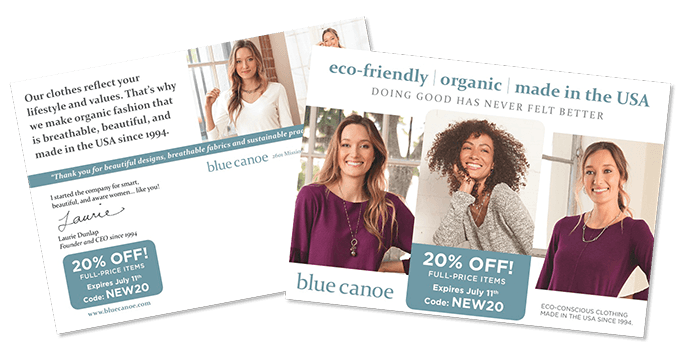 It's actually a very simple, yet ridiculously effective, marketing approach. 
We tag your site and match about 50% of your website visitors to mailable addresses, then we send out direct mail postcards. Use different creative for different URLs and pages. The process is straightforward, and we can get you up and running in a couple of weeks. No minimums, no contracts, no set up fees. You control the budget and quantity. 
Convert more website visitors with Postcard Retargeting –
even if they are the elusive Ad-Blind, Ad-Blocker, or Ad-Annoyed
We know you're overloaded and stressed, and your marketing resources are stretched.
But you need to find a new way to retarget your website visitors.
Why? Because the Ad-Blind, Ad-Blockers, and Ad-Annoyed aren't seeing or responding to your digital retargeting campaigns any more. Those are major gaps in your retargeting ad audience that must be filled.
In fact, they add up to being a majority of your retargeting audience according to studies from InSkin Media, Nielsen, and Statista.*
If you continue hammering away with standard digital retargeting ads…
At the least you are damaging your brand – 84% agree — "Obnoxious or intrusive ads give me… a poor opinion of the brands that are being advertised"*
At the most you may be saying goodbye to as much as 55% of your future sales by displaying the same ol' retargeting ads to all visitors – especially the Ad-Annoyed
But, it doesn't have to be this way…and it only takes 10 minutes to see if you're a fit.
Retailers can take their retargeting to another channel, and bypass almost all of these concerns — with Postcard Retargeting.
Postcard Retargeting is very similar to digital retargeting, but with an engaging twist. It enables retailers to leverage their daily website visitor data, set up filtering and segmentation rules, and then send out the retargeting ad – but in this case, we print and mail relevant Postcards. Plus, the channel complements your existing Digital Retargeting campaigns. Most of our retail clients are seeing return-to-site metrics between 10% to 25%. That's more than 20x the click-through-rates of traditional digital retargeting.
Discover how Postcard Retargeting can help convert your website traffic.