Direct Mail is never simple, but we help make it easy.
Creating a response-driving design, assembling a high-performing list, budgeting postage…it can get complicated. So, we streamline your experience to make it as easy as possible to launch a campaign.
Questions and Advice? Call 800-959-8365.
Our Direct Mail experts help you get more business
Speak with us about making a plan — if we learn more about your business and marketing goals, we will match the best-fit products and services
Reach the best prospects — our data services and targeted lists help you find and mail to the right audience
Design for response — we can review your layout for proper postal regulations or design it for you to take advantage of best practices
Save time and money — our mail automation and experience gives you the lowest USPS postage rates available
Track your mail and responses — we help you plan a method to track responses, and show you detailed reports of your delivered mailers
Whether you need a direct mail starter conversation or are looking for a complete direct marketing partner, we bring our 20 years of experience to local or national campaigns. Call today or start with our FREE direct mail planning resources.
*Direct Mail Statistics Prove Marketing Effectiveness
With all the digital and online marketing being used by your competition, adding Direct Mail is a proven way for you to gain separation.
*The Data Marketing Association – a marketing industry non-profit – studies compare Direct Mail versus some digital marketing.
% of online purchases influenced by "offline" marketing
Prospect Response Rates from Direct Mail are more than 20x that of email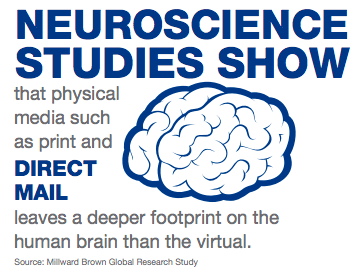 We Guide you through the 6 Elements of Direct Mail so You can Succeed
We focus on making sure our Mailing Services customers get the best service and quality in the market.