USPS Postage Rate Change – January 25, 2012
Effective January 22nd the USPS implemented a postage rate change. To help you plan for these changes use this chart to calculate estimated postage for Modern's direct mail products: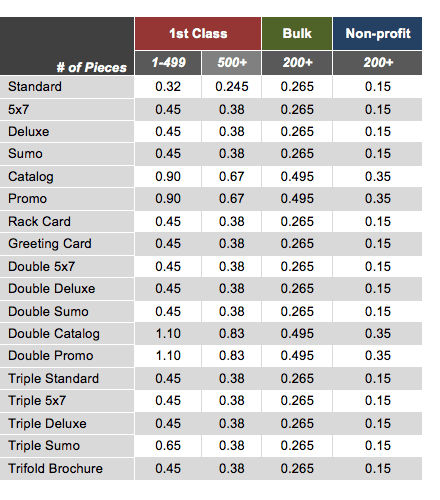 Here are the highlights of the rate changes:
FIRST CLASS MAIL
First Class stamps for 1 oz. letters increased by 1¢ from 44¢ to 45¢
Presorted First Class letter rates increased between .7¢ – 1¢
First Class stamps for postcards increased by 3¢ from 29¢ to 32¢
Presorted First Class for postcards increased by 2.1¢
STANDARD MAIL
Presorted Standard (Bulk) Mail letter rates increased between .3¢ – .6¢
NON PROFIT MAIL
Presorted Non Profit Standard Mail letter rates vary with decreases in most rates between .2¢ -.3¢. For highly concentrated mailings that qualify for Carrier Route rates, there is a small increase between .1¢-.3¢.
ADDED BENEFIT – FIRST CLASS MAIL 
With the January 22nd rate change, there is a significant new money-saving change for Presorted First Class mail. Heavier letters and self-mailers like Modern Postcard's Triple Sumo used to require additional postage of up to 20¢ more because they were over 1 ounce. With the new postage rate change, pieces that weigh up to 2 ounces will now mail at the same low rate of 1 ounce mail. This means that you can take advantage of using over 50% of the additional real estate a Triple Sumo has to offer over a Flat or Double Sumo without incurring any additional postage.
Tip: As postage rates go up, it is now more important than ever to invest time in maintaining your mailing lists by eliminating bad addresses and update mailing addresses for people/businesses that have moved.
By Modern Postcard
Call a Direct Marketing Specialist at 800.959.8365.