The Dashboard will be the best method of measuring response and tracking conversions when those occur on the website.
The system will automatically tally a visitor when they return within 2 to 60 days. In addition, if there is a conversion event, we automatically track that as well, regardless of whether the visitor used a promo code, scanned a QR code, or called a tracking phone number.
This results reporting starts 7 days after the first mailing, to allow time for delivery and for people to respond. After that, both of these metrics are updated daily and also show a cumulative tally.
It's important to note that the metrics are cumulative, meaning that the number of return-to-site visitors and conversions continue to add up, even if changes to the budget, targeting, or creative are made. 
Return to Site Count and % – this measures how many people who were mailed a card returned to your website two or more days after their card was sent.
Conversion Count and % – this measures the visitors who were mailed a card, returned to the website, and reached the conversion URL.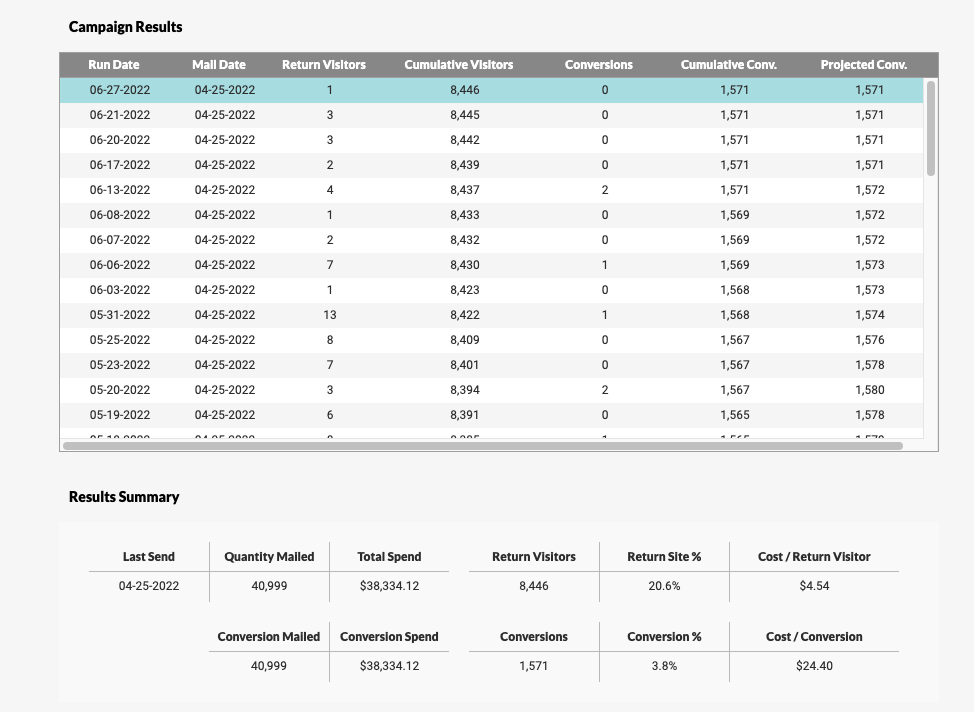 In this example, where an individual transaction is about $65, and the customer lifetime value is over $220, this client is spending about $25 to get a new $220 customer. That's roughly an 8x return on ad spend for this specific program.