The Dashboard is a central component of your program.
From showing the number of addressables you can mail to each day, to conversion results, and more, your Dashboard gives a complete picture of your program. The Dashboard is an essential tool during the onboarding process, used to both in the selling process and the performance management.
Traffic and Addressables
Once you place the tag on your website, the Dashboard reveals the number of visitors going to the site, and how many of those we can match to mailing addresses.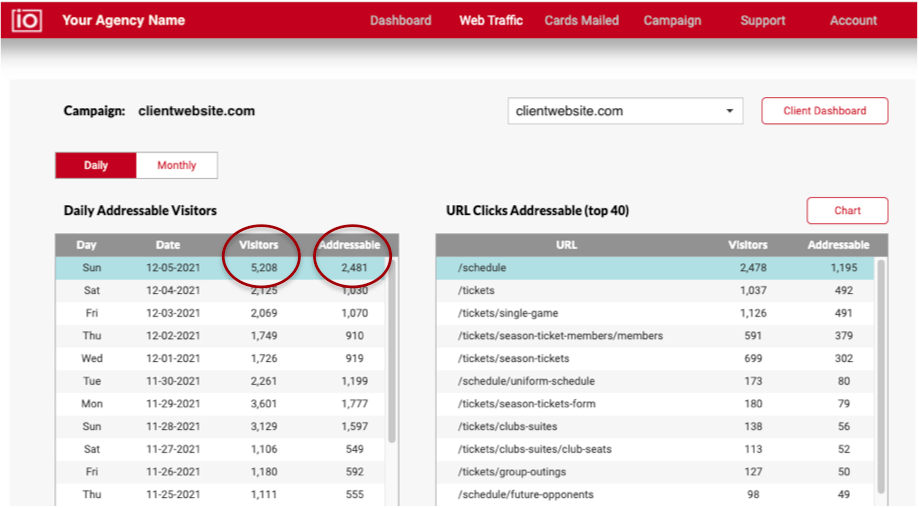 Each client program gets its own unique dashboard for you to review.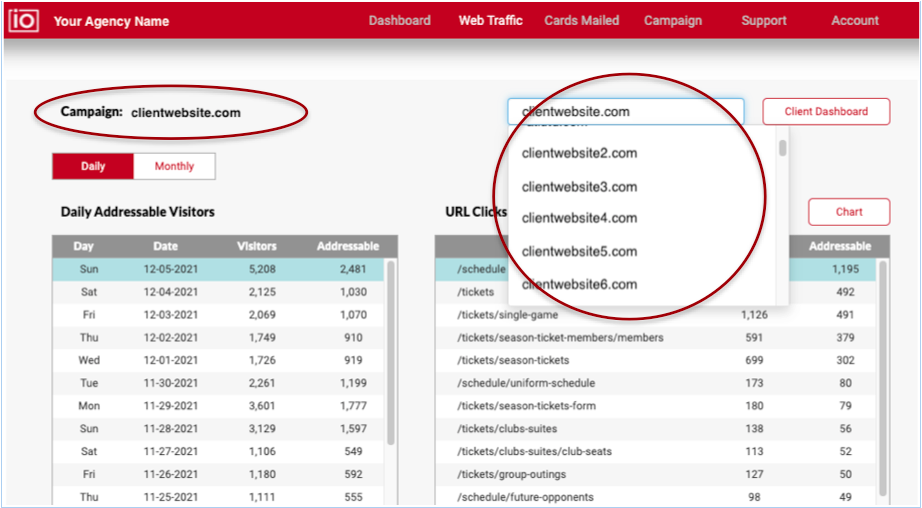 In addition to the total number of visitors and addressables, you'll see this breakdown for each of your site's top 40 pages. This sets up the discussion about your targeting strategy.

Visitors may go to multiple pages. They will be counted on each page. In this example, the same addresses may be counted.
Mail Delivery
Using the USPS Intelligent Mail Barcode technology, we track every card being mailed each day and provide multiple data points on your Dashboard: # Cards Mailed, by month, and by day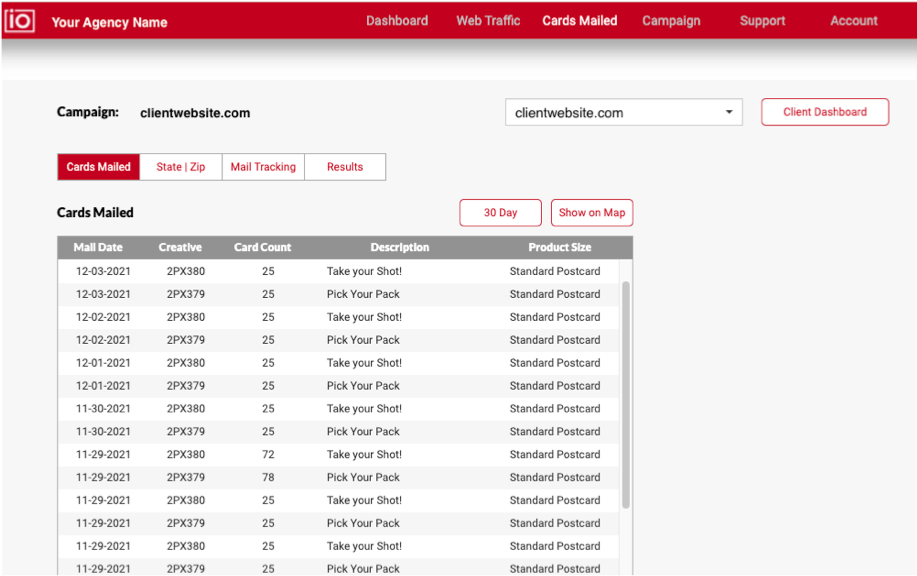 We also show the Map of where cards are mailed to by each Job Number/Creative. This helps if your client has a local or more national program.

We list the State and ZIP Codes as well, so you can link up with your other, localized media planning.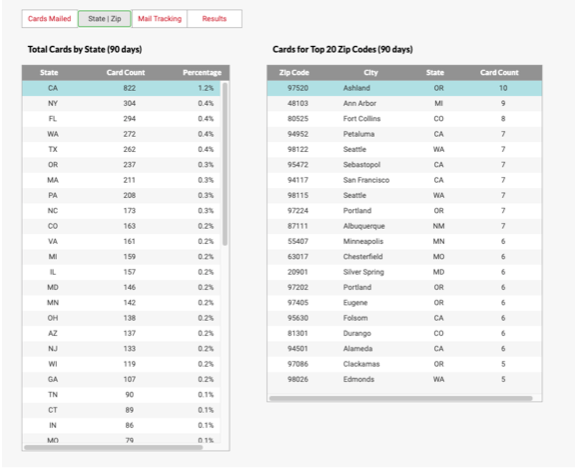 We detail the % of mail actually delivered, so you can give your clients the confidence that the program is reaching their audience.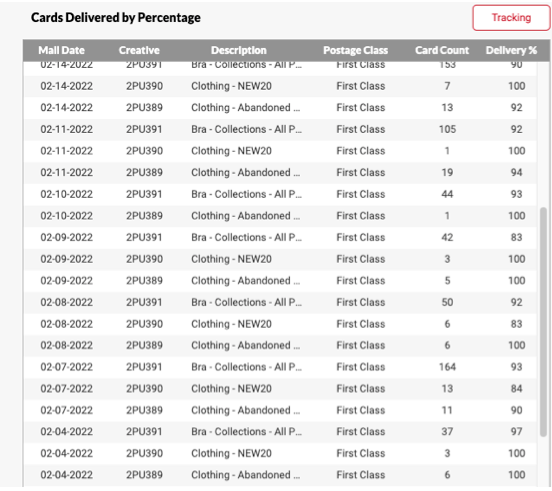 Online Results Tracking – We also track online response activity for a 60-day period of any visitor who was mailed a card. It's important to note that the metrics are cumulative, meaning that the number of return-to-site visitors and conversions continue to add up, even if changes to budget, targeting, or creative are made. 
Return to Site Count and % – this measures how many people who were mailed a card returned to your website two or more days after their card was sent.
Conversion Count and % – this measures the visitors who were mailed a card, then returned to the conversion URL specified during the onboarding process.
This results reporting starts 7 days after the first mailing, to allow time for delivery and for people to respond. After that, both of these metrics updated daily and also show a cumulative tally.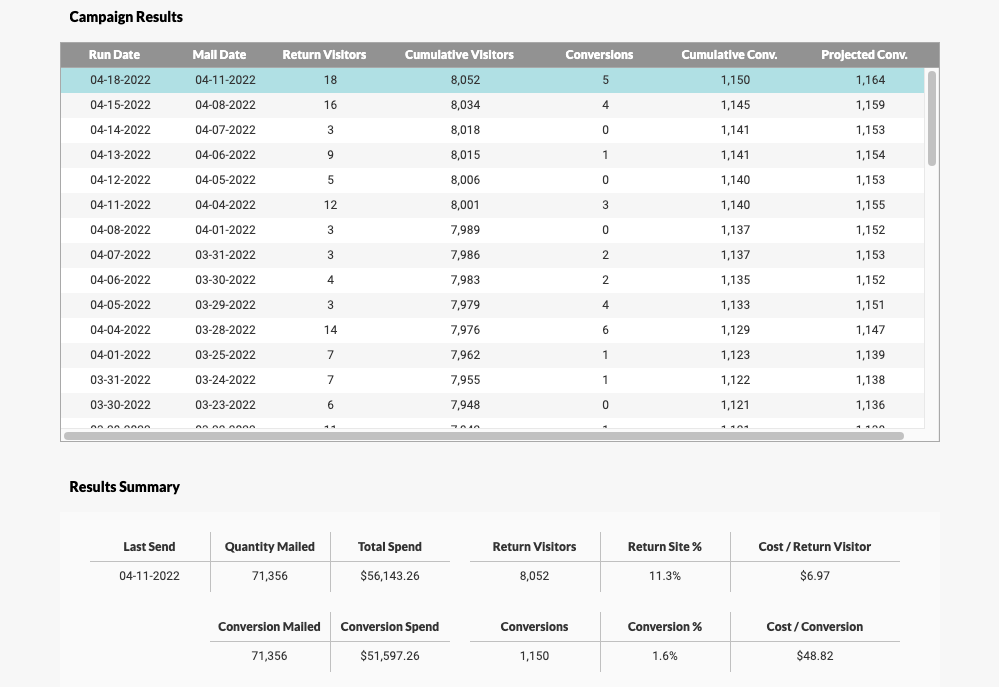 In this example, where an individual transaction is about $70, and the customer lifetime value is over $320, this client is spending about $50 to get a new $320 customer. That's roughly a 6x return on ad spend for this specific program.