Let's Celebrate National Postcard Week!
Clearly by our name, we specialize in modern postcard campaigns. However, centuries before our business and direct mail marketing even existed, the printed postcard left its mark with a fascinating history worth honoring. National Postcard Week (May 6-12) is not likely marked on your calendar, but today, we're here to tell you all about it and celebrate this early form of communication. PS: we're also offering you a fun freebie to commemorate the occasion! Learn more near the end of this article.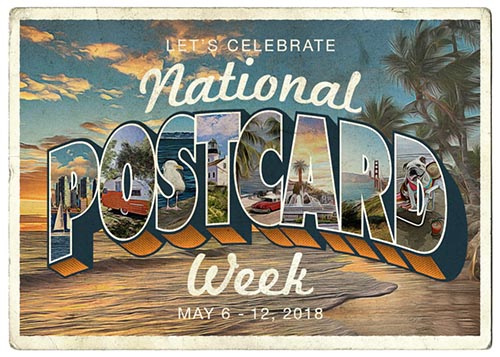 Long before emailing, texting and social networking, everyday citizens communicated in-person or by writing and mailing letters. As print technology evolved in the late 1800s, envelopes with comics, musical melodies and Valentines printed on the outside become popular – with many historians speculating that these envelopes were the direct predecessor to postcards. Shortly after, postcards made their debut, and on February 27, 1861, the US Congress passed an act that allowed privately printed cards, weighing one ounce or under, to be sent in the mail. During that same year, John P. Charlton copyrighted the first postcard in America.
Thus, people of the time relied on postcards as a more convenient and interesting way to get messages, important announcements or loving sentiments communicated from town to town, or even across the country. Mailing at 1 cent per postcard, this form of communication was considered economical.
Local politicians and business owners soon figured out how postcards could help grow their profits. They cleverly used mailed postcards to get their latest announcements and advertisements distributed to the masses. Little did they know, they were trailblazing the way for today's businesses that rely on direct mail as their prime marketing channel.
As time progressed, postcards were used for more reasons than just staying in touch or making announcements. They became colorful, collectible and more complex, and they were even used as prizes and travel souvenirs! Here's how postcard styles developed over time:
The Early Modern Era of postcards was 1916-1930, known as the white border period. American printing technology had advanced, creating higher quality postcards with white borders around the featured picture.
The Linen Card Era of postcards was 1930-1945, enabling publishers to print postcards on linen paper stock with brilliant colors. View cards, comic cards and political humor cards of World War II were often printed during this time.
The Photochrom Era of postcards is 1939-present, remaining as the most popular era of postcards today when it comes to quality print reproduction.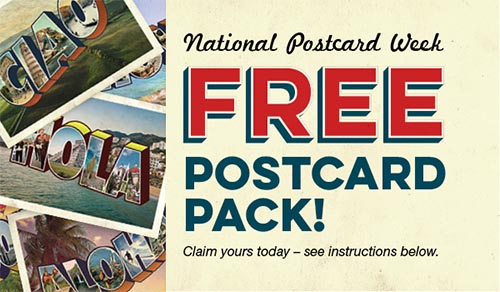 Since we're celebrating this very special week, we want to offer you a complimentary pack of vintage-inspired travel cards that our marketing team created, just for the occasion. You don't need lavish vacation plans to send your friends and colleagues greetings from around the world. Or, you can always hang them up in your office and dream about your next getaway or staycation.
Here's how to get your FREE postcard pack (while supplies last or until 5/12/18): Click here to provide your name and mailing address, and your card pack will be delivered via USPS® in about 5 business days. That's it – and we hope you enjoy these picturesque postcards!
Say thanks with a social shout-out: 
Snap a picture with your favorite travel postcard and be sure to tag or mention Modern Postcard on Facebook, LinkedIn, Instagram or Twitter.
By Jessica Biondo, Marketing Communications Manager, Modern Postcard
Call a Direct Marketing Specialist at 800.959.8365.