USPS News: Our 2 Cents on Sunday's Postage Decrease – April 26, 2016
On April 10, the US experienced a historic event that hasn't happened for nearly 100 years: the postage rate for a 1oz letter dropped for the first time since 1919! At that time in history, mail was still being delivered by horses in some areas and air transport for mail was brand new. Back then, the price of a stamp dropped from a whopping 3 cents to 2 cents. Fast forward 97 years, and the price of a stamp just dropped from 49 cents to 47 cents. This decrease is great news for businesses that currently use direct mail marketing, or those looking to start.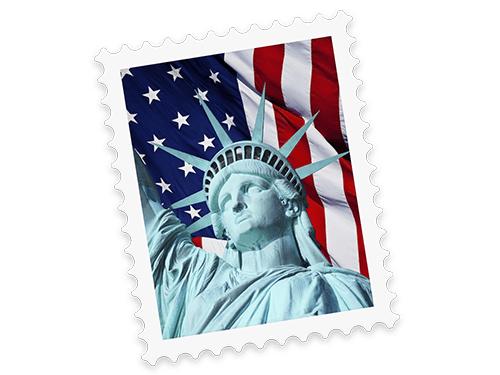 Direct mail response rates outperform all digital channels by nearly 700%. With this recent news, many businesses can save a bit more by launching higher quantity mailings to customers who are most likely to make a purchase.
This postage decrease points to the effectiveness and popularity of physical mail over the last few years. In 2013, the United States Postal Regulatory Commission* (PRC) approved a postage increase twice in one year (which is not the norm) due to difficulties the USPS was facing as a result of the recession. However, under this agreement, the USPS was allowed to generate 3.2 billion dollars in revenue as a result of the approved increase. Luckily for them, they exceeded that limit by 1.2 billion dollars! Due to this huge increase in revenue, they are now required by the government to reduce their postage costs for the time being.
Quick Facts
The USPS decrease took effect on April 10, 2016
The change only affected market dominant products:

This includes letters, postcards and flats that mail First Class, Standard or Non-Profit
All postage within this category decreased, but not all decreased by 2 cents

Forever Stamps are now worth 2 cents less
Competitive products, like Priority Mail and Parcels, were not included in the decrease
For current Modern Postcard clients, this is great news that will allow for a bit more savings on direct mail campaigns that mail after April 10, 2016. With that said, Modern is happy to report that its current mailing services clients get the lowest possible postage rates, since every mailing order is analyzed to ensure maximum savings. So, while the USPS postage decrease will provide further discounts, the change will likely be slight for automated mailers. Overall, this change is a win-win for Modern Postcard clients, as every bit of savings can add up.
For smart direct mail ideas that can best serve your business during the USPS postage decrease, call our team of Direct Marketing Specialists at 800.959.8365.
*About The Postal Regulatory Commission
The Commission is an independent agency that has exercised regulatory oversight over the Postal Service since its creation by the Postal Reorganization Act of 1970, with expanded responsibilities under the Postal Accountability and Enhancement Act of 2006. The Commission is composed of five Commissioners, each of whom is appointed by the President, by and with the advice and consent of the Senate, for a term of six years. A Commissioner may continue to serve after the expiration of his or her term for up to one year or until a successor is confirmed. No more than three members of the Commission may be from one political party (www.prc.gov/about).
By Modern Postcard
Call a Direct Marketing Specialist at 800.959.8365.